Last updated: 14 September 2021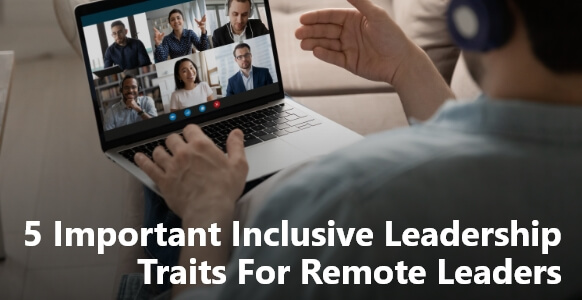 In the shift towards remote working, owing to the Coronavirus pandemic never has inclusive leadership been so uniquely critical in the work environment. With a lack of face-to-face time, and spontaneous interactions, and in-person conversations, there is a heightened awareness of the challenge presented by, and the corrosive effect that non-inclusivity can have on any team.
Add to this the pressure that today's leaders face in the expectation to make rapid decisions, often in crisis situations with little or incomplete information, and the need for inclusivity is even greater.
The reason is, according to research cited in the Harvard Business Review, that even well-intentioned leaders in crisis mode default to generalization patterns of exclusion and bias. Stress has the effect of reducing the ability to be self-aware, goal-oriented, and make deliberate decisions.
Leaders today not only need a thorough understanding of what defines inclusive leadership, but also need to model inclusive, nonbiased behavior to create inclusion, collaboration, and general engagement. This serves as a starting point to correct the unconscious tendency towards exclusion or bias as a result of making hurried or stressed decisions, with a workforce that is physically distanced, and perhaps emotionally remote.
Creating an inclusive remote workplace culture isn't necessarily a simple process, however, it is learnable. Inclusive leadership, according to the Center for Creative Leadership, is where leaders proactively take steps to ensure all team members have a sense of belonging and value, are treated fairly, and have ready access to the resources and support necessary to achieve their potential.
Leading inclusively means that your team feels safe to speak up, feels represented, and are able to bring a variety of perspectives to the table. It also fosters a collaborative, respectful, rapport-driven approach that sees a higher level of engagement, satisfaction, well-being, and productivity from your people. Ruchika Tulshyan writes that those organizations who seek input from a diverse group of employees, with a variety of perspectives, are far more likely to be innovative when faced with a crisis.
So, what are the essential qualities of some inclusive leadership traits, and how do you put them into practice?
5 Inclusive Leadership Traits For Remote Leaders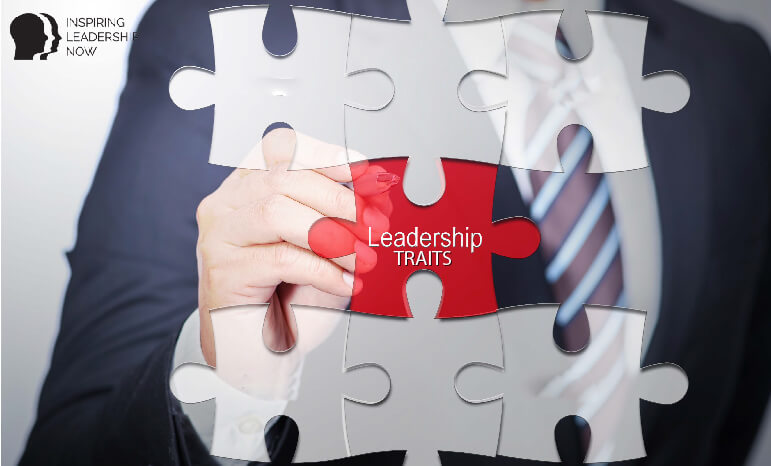 This is your guide on how to sustain an inclusive remote work environment, drawing on inspiring insights and tried-and-tested methodologies and leadership skills.
Awareness of Bias
Bias, put simply, is a tendency, opinion, feeling, or inclination that is preconceived and unreasoned. It shows up as hostile opinions, feelings, or prejudice, about a social group. This group might be of a different gender, race, or capability.
A bias rests on an "us and them" mentality. It is wholly non-inclusive. Yet it can be very subtle and unconscious – especially when leaders are stressed.
To cultivate an understanding of bias it is vital to understand how it can show up. Take gender bias for example. It is now widely understood that during the pandemic women have come to bear a disproportionate load of responsibility for home, family and healthcare needs, on top of a work schedule. The research noted in the HBR reveals that in non-pandemic work scenarios, women are penalised for their role as visible care givers, while men are applauded, by being made to believe that they are more reliable and/or offered more money.
Unfortunately, the COVID 19 crisis has also seen a rise in racism against Asian and Asian Americans, says Tulshyan. Therefore, to challenge your biases:
Check-in with all your team who might be overly affected by the pandemic.
Remind all your people that any discrimination is taken seriously.
Share all protocols and channels for reporting discrimination.
Watch out for your own biased language in performance evaluations.
For example, pay special attention to making reference to productivity or reliability during periods of remote work when addressing female employees with children. Avoid and draw attention to the use of "other" (us and them) language, or "bro talk" within or outside your team.
With all your team, be deliberate about who you are giving feedback to and how you communicate it.
Take time to ask yourself whether your feedback could be biased, and solicit authentic feedback from others on this topic.
Humility
Being humble, having humility, is the opposite of arrogance and inflated superiority.
Having a humble approach looks like challenging your personal assumptions, adopting a learning orientation, and being open to receiving (and acting on) the feedback of others.
With this openness, a humble approach means that you can actively seek to understand and integrate others' experiences and styles.
How to develop humility as an inclusive leader:
If you don't have the answer, or don't already know what an experience feels like, acknowledge that, AND express a desire to know more.
Ask questions before asserting your own opinion – don't assume to know.
Coach your people through challenging scenarios, or potential conflict by encouraging a curious and learning approach.
Have yourself and your team get comfortable with not being right.
According to McKinsey, your job as a leader is to embrace and share the idea that your colleagues' role isn't to have all the answers but to find the best solutions.
Be actively curious about the people you lead.
Curiosity changes the way you approach situations and individuals, according to Culture Wizard. By being curious about others not only do you get to learn more about your people, you also make yourself more approachable.
The result is that your team will become at ease offering their insights, opinions and suggestions, empowering them to be more effective and collaborative.
Collaborative Spirit
Creating a collaborative spirit looks like building space for diversity, and encouraging greater participation. It is your role to harness the potential of your team's diverse perspectives to boost performance. To open up the field to all participants equally, it is vital that you ensure all your people have opportunities to contribute in virtual meetings.
You can foster collaboration by:
Sending out meeting agendas ahead of time with clear roles and topics.
Rotate call facilitators and other duties so that they are equally shared.
Ask every participant for their opinion at least once, and acknowledge all responses.
HBR's Tulshyan advises starting each meeting by welcoming everyone into the room (not just those of status or privilege) with a check-in before diving into the agenda.
She has observed that skipping these pre-meeting check-ins has an adverse effect on collaboration. Those who feel comfortable speaking up do so, and those more introverted or from underrepresented backgrounds are most likely to stay silent.
Celebrate and draw attention to different opinions, placing an emphasis on the value that different perspectives offer in finding the best solution.
Give credit where it's due and when an individual reiterates an idea previously put forward in a meeting, acknowledge who offered the original.
Maintain a working list of your people and their specific goals.
When opportunities arise, refer to your list to make a match, rather than relying on the first person who comes to mind. Ask, don't assume, whether a coworker would or wouldn't want an opportunity.
Open up the transparency of opportunities by asking the whole team for volunteers.
Authenticity – Vulnerability and Empathy
Being authentic means being comfortable in yourself, and comfortable sharing more of yourself.
The courage to share a little more of your humanness is the vulnerability part. Make no mistake, expressing vulnerability isn't weakness; being real is immensely brave. It inspires both trust and authentic rapport.
Cultivate an empathic (caring) approach, and use this to learn how better to support and understand your people.
Leaders cannot back someone without having an idea of what it is that they are facing, according to Diana Ellsworth et al in McKinsey.
So, to develop your authenticity, vulnerability and empathy:
Get to know your team members on a more personal level by asking open questions (i.e. not those with a yes/no answer) on topics that are of specific interest to your individuals.
Ask your employees to share what challenges or distractions they are facing, and what they might need to be fully present.
Demonstrate your understanding of what others are experiencing.
Where appropriate share your personal circumstances and unforeseen needs as they arise. Encourage others to feel more comfortable doing the same with each other.
Cultivate regular and direct, one-to-one communications with your coworkers to see how they are doing. Pay close attention to those who may feel marginalized or underrepresented.
Make a point of drawing these colleagues into discussions, especially if you notice them slipping into observer mode.
When there are difficult questions to ask, be brave and name the elephant in the room, create space for all team members to share openly.
Be willing to openly have challenging conversations.
Acknowledge potential mistakes (without assigning blame or judgement). Place the emphasis on a desire to learn and grow.
Compassionate Leadership
Compassionate leadership is leading with self-awareness, care, and empathy to support and empower your people. Even in times of crisis compassionate leaders create opportunities to build robust and trusting relationships and to reorient teams towards a collaborative, innovative and positive approach to their work.
For a more in-depth look at this topic, check out the ILN Article – Compassionate Leadership: Five Essential Traits to Cultivate to Inspire a Work Environment in Crisis
It is critical for leaders everywhere to be inclusive and collaborative, however, bear in mind that different cultures expect leaders to behave in different ways, and team members might have different expectations about how they should be managed. Inclusive behavior, says the Culture Wizard, needs to be moderated to meet the cultural context you are leading within. Bear in mind there is always a need for compassion.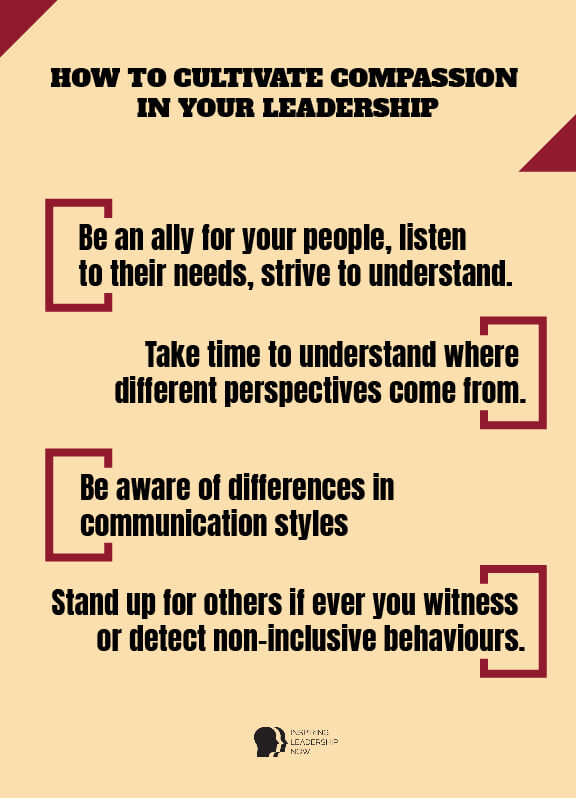 Be an ally for your people, listen to their needs, strive to understand; invest in the fair treatment and wellbeing of all team members.
Take time to understand where different perspectives come from.
Even radical views are essentially well-intentioned, the key is knowing the intention that is underneath the idea or behavior. It is your job to foster compassionate understanding so that you can draw out the positives and encourage them to be fairly and inclusively expressed.
Be aware of differences in communication styles.
Avoid letting a bias sway your assessment of a colleagues' contribution. If you find yourself jumping to conclusions, suspend judgment, assume a positive intent, and ask curious questions to understand intentions and motivations.
Stand up for others if ever you witness or detect non-inclusive behaviors.
Major Takeaways
Inclusive leadership starts with you. Development of valuable inclusive leadership traits start with the practice of collaboration, compassion, bias awareness, authenticity and humility.
Cultivating a deep awareness about how bias shows up in decision-making is becoming more important with the movement from pandemic-crisis response, into short, medium and long-term recovery, and especially in the world of remote work.
Inclusivity in the workplace and developing inclusive leadership traits in a work environment challenges and reverses outdated business practices and biases that can unconsciously sustain non-inclusivity and marginalization in the workplace, however subtle.
Leading from this place means having the courage to develop, and act with self-awareness and becoming an authentic ally for those you lead.
With understanding, with self and cultural awareness, with a celebration of diversity and inclusion practices (that are not simply check-box initiatives) will drive not only innovation and productivity.
It will also drive wellbeing, equality and cultural change that is critical for you, your people and your business, locally and globally – for both today and tomorrow.