Last updated: 3 August 2021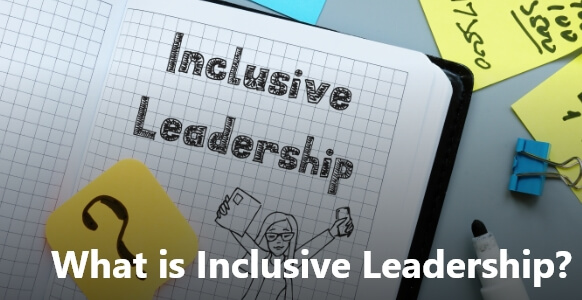 Recent events in the media such as the tragic murder of George Floyd in Minneapolis in 2020 are shining a light into the non-inclusive corners of society. The protests against the perpetrating establishments and practices have been ringing out across nations, with voices demanding social and economic equality in response.
Organizations, too, are taking a stand with HR executives reexamining their diversity initiatives, statements denouncing racism, and fair representation of products from minority-owned businesses.
Reinvention starts with leaders who embody an inclusive leadership approach. Although the workplace has been seen as neutral and rational, with new awareness around diversity and inclusivity, inclusion practice must start from the top.
Inclusive leadership, according to the Center for Creative Leadership, means that leaders actively strive to ensure each and every one of your team members is:
Treated fairly
Have a sense of belonging and value
Have ready access to the resources and support necessary to achieve their potential
What is Inclusive Leadership and Why Leaders Should Cultivate an Inclusive Working Culture
Despite the myth that the workplace is neutral, there still exists an often unconscious undercurrent of non-inclusivity, in other words, marginalization, and racism in the workplace.
This, according to Arthur Brief of the University of Utah, takes the form of "aversive" and/or "modern" racism. Aversive racism refers to incidences where coworkers change their behaviors around or avoid, those of different races. Modern racism defines the belief that discrimination in no longer exists, owing to the marketplace having been (allegedly) opened up to all races equally.
That's not all. If you add to aversive and modern racism, an accumulation of microaggressions; which are derogatory assumptions and assertions made on the basis of race, you do not have an inclusive environment at all (an example of a micro-aggression is a black female executive being mistaken for a secretary by a white male visitor).
With these types of occurrences being commonplace the idea of the workplace being "racially neutral" instantly disappears before your eyes.
Research reported in the Harvard Buisiness Review by the Scientific American, shows that there is an understanding in executive circles that a heterogeneous (diverse) workforce generates greater performance and innovations. However, more than fifty years after the Civil Rights Act and decades of corporate Diversity and Inclusion endeavors, the statistics, unfortunately, tell a different story.
According to the recent HBR article in the U.S., only eight percent of managers and under four percent of CEOs are black. In the Fortune 500 companies (those that reported detailed demographic data on the race mix of board members and senior executives) white men account for 85 percent of the roles. In the same Fortune 500 companies, there are currently only three black CEOs. That's three individuals, not three percent.
It seems inclusive leadership has a way to go. To better understand how to cultivate an inclusive working culture let's first look at how some common business practices and a few business myths reinforce exclusion.
>>Related Article: How To Inspire Change In The Workplace: 10 Ways To Be A Powerful Voice Of Change (Even When It Feels Impossible)
How Business Reinforces Non-inclusivity
There are several practices and myths within the business that have become "normal" practices and are treated as facts, which, when unchallenged, perpetuate a structure of inequality. These are detailed in Five Practices and Three Myths That Fuel Inequality. Allowing these to form your organizations' practices means you inadvertently block a diverse range of people coming up. They also exclude those who could otherwise increase your talent pool and improve overall organizational performance.
The practices are hiring, role allocation, promotion, organizational structuring, and compensation.
The myths are the efficiency myth, and the myth of positive globalization. They oftentimes reinforce inequality.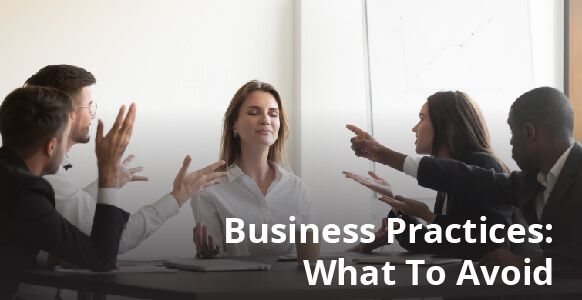 Business Practices: What To Avoid
Hiring
A common practice that increases non-inclusivity in the hiring process is using cultural-likeness, or background to simplify candidate evaluation. What this means in real terms is grouping candidates together from a particular background to make the selection process easier for the recruiting team. For example, filtering applicants with degrees from specific universities. Why does this happen? Because, according to the study, the people doing the hiring feel more able to relate to them.
Role Allocation
Without the awareness of inclusive leadership, roles become allocated around presumptions and stereotyping. Certain roles are presumed to be more appropriate for certain people, although in reality, this is not the case. 'These things are often not even questioned but just accepted as a fact of life. People just fall back on assumptions and stereotypes' says Amis in Five Practices […].
Promotion
Research shows that both black and female people were hindered in their prospects of promotion by gaining less social capital. In other words, ethnic minorities and women have far fewer invitations and opportunities to present at the board level. Consequently, their 'social capital' is reduced because they have less chance (in contrast to their white male coworkers) to build and create networks with CEOs and peers.
Organizational Structuring
Even though companies have been depicted as neutral regarding their structuring, Amis' research reveals that organizational cultures, procedures, and hierarchies 'become permeated with values and interests that prioritize some groups over others.
Compensation
Performance-based compensation is skewed heavily towards the executive class (primarily consisting of white males) than those at lower levels. Wages for average workers in the USA grew by just under twelve per cent between 1978 and 2018. In the same time frame CEO compensation inflated by nine hundred and forty percent. That's a difference of 928% between the salary growth of executives and non-executives.
Business Myths That Might Reinforce Non-inclusivity
Mistaking these myths as facts explains the commonplace occurrence of the practices outlined above. Inclusive leadership means building awareness of these myths and practices so that they can be re-examined and applied within the right bounds.
Efficiency Myth
The efficiency myth is that organizational success is caused by efficiency-enhancing practices. As a consequence, according to the studies, managers who hire people like themselves do so on the basis that they presume homogeneity (sameness) is more efficient than diversity.
Research shows the reverse is actually true; diversity leads to greater productivity.
Positive Globalisation Myth
Behind this myth is the belief that global domination is the cornerstone of corporate success. The myth itself is that globalization is beneficial for all. However, corporate practices in organizations that cross national boundaries generate inequality.
This might be through their favored use of one language, English for example, or the use of specific technologies. Plus, 'Global brands deny basic labor rights': hired labor is rendered immobile though low wages and little to no opportunity to increase compensation or develop new skills. Consequently, there is a vicious cycle of 'low pay, limited opportunities, and, often, dangerous working conditions' according to Amis's study.
By following limited practices and making decisions based on economic myths, managers and leaders not only promote non-inclusivity but also are damaging their organizations. Yet, Amis, says: "If you talk to any right-minded person, the vast majority are not deliberately doing this—we just become entrenched in our ways of working and seeing."
Why We Need an Inclusive Leadership Approach
Changes to inclusivity and diversity are not limited to one sector. To generate the necessary change for real equality all sectors of industry and business must get on board. Otherwise, it looks like tokenism.
Tokenism is what happens when organizations attempt to be inclusive by hiring a small number from under-represented groups. For example, a company might hire one black or brown person, or one LGBTQ person as a minimum requirement.
Unfortunately, this backfires because, according to the Center for Creative Leadership, without real representation, these organizations don't benefit from a diversity of backgrounds, talents, and perspectives. What is more, the "token" individuals often feel taken advantage of and undervalued because of the sense that they are simply there to check off criteria.
Another consequence of underrepresentation is assimilation. When those in the minority of employees feel that their culture isn't the dominant one in the organization they are likely to assimilate – blend in – to the masses. What this means is that your minority employees will take on the values and characteristics of the company culture, so they don't stand out.
You lose the diversity in perspective and also it means that some of your workforces will be feeling inauthentic at work; a particular struggle for black leaders, according to research in the HBR. As result minority workers feel less engaged, supported and committed to their jobs than their non-black peers.
The result of being hired to check a box for a diversity initiative is dehumanizing, which is: "the most powerful and painful form of collateral damage" according to Dunne-Moses in the Center for Creative Leadership article.
The evidence to support the benefits of a diverse workforce is unequivocal. For example, a 2015 report cited in the HBR on over three hundred public companies found that those in the top 25% for racial and ethnic diversity in management were 35% more likely to generate revenue above the industry mean.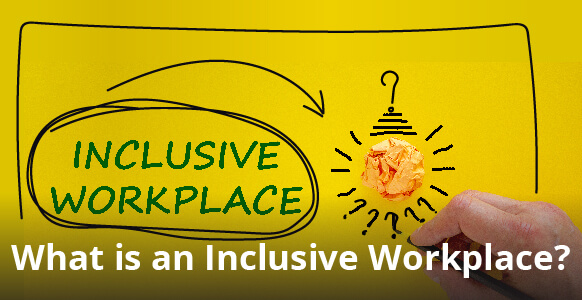 What is an Inclusive Workplace?
An inclusive workplace is oriented around putting people first.
1. Inclusive leadership means leading with humility and empathy
Empathy is the ability to connect with another's experiences, thoughts, or attitudes on an emotional level. Empathy sets the stage for inclusion. An act of empathy is taking time to ask about and understand what is going on for an employee if they are struggling with something. It's regularly checking in with your people on an individual basis, listening to your team – and meaning it.
2. Inclusive leadership in the workplace seeks to build relationships
Not only through empathy but also through awareness – both self-awareness and social awareness. To engage fully in acts of inclusion you must, first of all, get to being comfortable in yourself, and from self-awareness comes social awareness. (Those lacking in social awareness are likely to say the wrong thing at the wrong time, or may have trouble communicating.) An example of building inclusion through social awareness is making a point of getting to know new members of your team, helping them get acclimated and welcoming them with friendly support.
3. In an inclusive workplace, you place a high value on the skill of listening.
And specifically listening to understand others, and listening to reveal your blind spots or those of the company. Effective listening not only deepens rapport between you and your team, building trust, it also means that you are actively equipped to resolve conflicts, as well as increasing efficiency and inclusivity. Getting to know your own knowledge gaps or weaknesses (as well as your organization's) ensures that you are poised to take action on feedback. It means you are open to reinvention and are willingly creating opportunities accessible to all your colleagues.
>> Related Article: Why Developing Exemplary Persuasive Communication Skills Is Essential
4. Investing time and resources into building a culture of learning for all is a hallmark of inclusivity at play in the workplace
Giving your people the skills and tools that they need to grow and develop takes a considered investment of resources and will offer you a valuable return, according to the Center for Creative Leadership. As dividends for your backing, you will gain in employee satisfaction and greater employee engagement meaning a lower turnover. Plus, increased innovation capacity, and the ability to respond to challenges.
This emphasis on continuous learning across entire organizations sows the seed of positive, inclusivity-led change. Microsoft for example underwent a change of CEO in 2014 with Satya Nadella, who rallied towards a vision for 'living and learning culture.' This was in contrast to the culture of internal competition of being "the smartest person in the room," according to Jim Hemerling in his TED talk 5 Ways to Lead in an Era of Constant Change.
This shift in vision and focus changed the siloed approach of a "fixed" mindset to a "growth" mindset, and Microsoft's employees noticed the change.
How Inclusive Leadership Benefits You, Your Team, and Your Company
Inclusive leadership and its practices are highly motivating for your people. Because essentially it enables your team to have and to actively cultivate the capabilities they need to succeed, during times of change, and beyond.
Various studies cited in the HBR, for example, have shown that teams composed of a mixture of white and black people are more likely to carefully process information, spur innovation and focus on facts when the workplace culture and leadership support learning across differences.
A focus on humility encourages a network of engagement and diverse perspectives, allowing all individuals to have a voice and become an authentic part of your organization.
Empathy and perspective-taking lets your people know that their leader cares about them and genuinely takes different views into account, rather than steamrolling through with preconceived ideas or a narrow perspective.
The benefits of putting people first are multifold. Take another example, Chronos, a global software company identified the need to shift from building software products to building software as a service. It invested in the new tools and developed the skills that its team would need to monitor customer satisfaction, and resolve customer service problems.
More importantly, says Hemerling, they built up the collaborative, inclusive behaviors that would create a fluid customer service experience.
By equipping your team with the skills and know-how to feel empowered means that they show up: engaged and energized. What is more, rather than feeling overwhelmed in the face of transition or big changes, they are enabled and ready for action, both as individuals and as a collective.
Conclusion and Takeaways
Inclusive leadership starts from the top with the social and self-awareness to dismantle outdated business practices and myths that are unconsciously perpetuating non-inclusivity and marginalization.
By ensuring that each and every one of your team is treated fairly, having a sense of belonging and value in your organizations, and with easy access to any resources and support necessary to achieve their full potential – you will bring out the best in your people. Inclusive leadership in the workplace offers – and makes real – a vision of learning, listening, empathy and humility. It creates a roadmap to genuine diversity with milestones, clear, well-considered directives and accountability – it is humble and inclusive, and puts people first.
An inclusive workplace looks like an organization that brings initiatives to win, in the short, medium, and long term by driving actions that invest, fairly, in leadership and talent. It supports and champions a culture of learning and diverse perspectives with a network of support, growth, and authentic feedback.
Transforming to embrace and embody inclusivity from the top down doesn't have to be exhausting as mentioned by Hemerling. In fact, you can boldly transform your approach to change and inclusivity by simply putting people first.