Last updated: 17 October 2019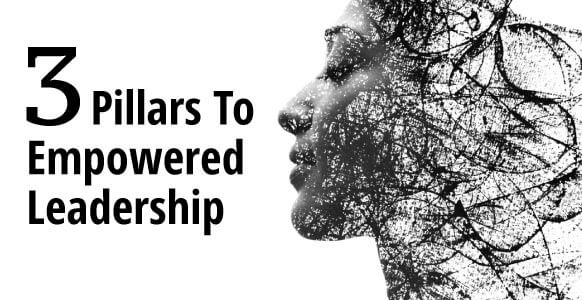 You'd have to be living under a rock to be unaware of the ongoing and current social upheavals when it comes to women in leadership.
Whether it be the wage gap, sexual misconduct, or women being "mansplained" (i.e. talked over and disregarded simply because of their sex) – the message that inequality will no longer be tolerated is being filtered through society.
But despite the message gaining momentum, it is yet to be fully heard. Inequality still exists, even in the world's most "progressive" countries, such as the United States and the UK.
What's more, women also receive a hard time for trying to fit into the "man's world" – they get criticized for being "not nice" or "too bossy" or even secretly called a "bitch" if they need to be more aggressive to get a point across. Or when it comes to vocalizing their dissatisfaction when something has gone wrong.
Regardless of your opinion on these current affairs, the statistics prove that inequality is still prevalent for not only women in leadership, but in society in general.
According to an article by Business Insider, women make 80.5 cents to the dollar that men make, for the same job, in the United States. And according to the US Census Bureau, women's median annual earnings are $10,086 less than men's.
When handed two identical resumes, where the only difference being that one has a woman's name and the other has a man's – the man's resume is regularly chosen over the woman's.
But that's not all… even women chose the man's resume more often!
Sheryl Sandberg, COO of Facebook, and one of the wealthiest self-made women in the world, speaks about these statistics and social issues in many of her talks floating around the internet.
It's no new wonder that many women feel disempowered in the workplace or in society in general.
Thankfully, the wage gap is decreasing – albeit slowly. And, people are becoming more aware of these ingrained biases that exist in society… and worldwide!
It has been, and may continue to be, a slow process for women in leadership. But there are some things you can do to help ease into, embrace and cultivate a more equitable workplace and society for women…
The 3 Pillars To Empowerment For Women In Leadership
IMPORTANT NOTE: The points below aren't only for women – they're vital components for a strong foundation in empowered leadership for both men and women.
1. Awareness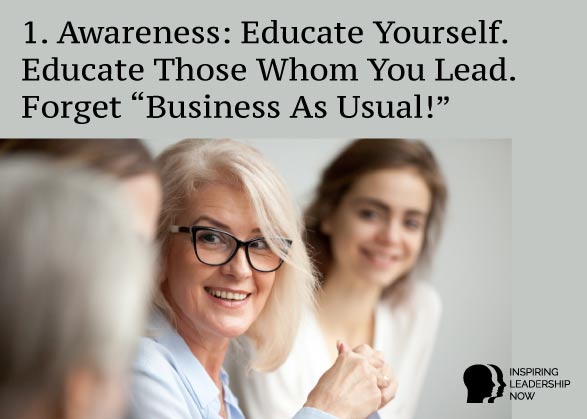 A true and great leader is not a boss per se, but someone who supports those whom they lead.
Whether it's in the modern office or in the way an entire country is run – the structure will almost certainly collapse if individuals are not supported by their leaders.
Start paying attention to where you are biased; I can promise with near certainty, you'll find it somewhere!
Look for where you may be blind to these societal norms. Help your team become aware of their biases. It takes some courage to dig into these probably not-so-pretty aspects of our culture, but you wouldn't be in a leadership role if you didn't have courage!
Studies show that even women are unconsciously biased against other women.
"I literally teach this stuff for a living. Worse yet, a ton of my work focuses specifically on helping female attorneys advance in their careers. If my unconscious bias kicked in, there's no telling what's going on in the heads of everyone who's not thinking about these issues all the time." – Lelia Gowland, Forbes
Once you and your team begin shining light on your biases, it will take some conscious effort to change the ingrained habits.
One effective way to encourage your team to change these norms is to…
2. Action
Consciously changing habits and behavior takes dedication, consistency, patience self-awareness, honesty and, even a bit of vulnerability – at least with yourself.
You teach people how to treat you by how you accept being treated. And in this way, sometimes when you are teaching yourself new ways of being, and letting go of outdated modes of operating, you must 'pretend' or try on a new way of being, until it becomes ingrained.
It's also important to remember, anyone in an established leadership role, at some point, was not in that role. It may have been a mere dream, vision or fantasy until it finally became reality.
In fact, one thing that people who excel have in common is they were (and continue to be) guided by their vision. So keep dreaming big!
And also keep an eye out for any cases of "imposter syndrome" along your journey. Sometimes, you might feel intimidated or like you don't deserve a job or position. Or your past comes up to haunt you, instilling fear, clouding your vision.
In these moments, you can effectively change how you feel in such simple yet profound ways.
One way is to change your body posture, as American social psychologist, author and speaker Amy Cuddy has shared from her research. This does not mean striking the Wonder Woman pose in front of people you're trying to manage or lead.

The purpose of striking a power pose in this instance is to change your own internal neurology and biochemical state – so you feel different, stronger and more confident. In doing so, you exude this presence to others, without having to be overt about it. This generally should be done in private if possible – in the bathroom before an interview. Or, in the comfort of your own home before leaving for an important meeting. While this research has been met with mixed reviews, it's definitely worth checking out Cuddy's TED Talk to discover more, which you can find below:

Now this one is mostly applicable to women, but men, you can also help encourage women here. Women, take your seat at the boardroom table. Raise your hand. Speak up. Don't sit on the sidelines. It has been documented repeatedly that women will sit back, stay quiet, not raise their hands and undervalue their input far more often than men.

And this is okay – if you don't mind staying quiet in the background, and not speaking your truth. Whether this is at a boardroom meeting, at a PTA meeting or in a relationship – if you have something worth adding, express it. This can begin in small ways, practicing with people who are safe – good friends, family etc. But knowing the worth of your truth and value in expressing it is vital.
This leads to the third critical pillar. The one that is the most overlooked as being unimportant or unproductive. Let me explain…
3. Embodiment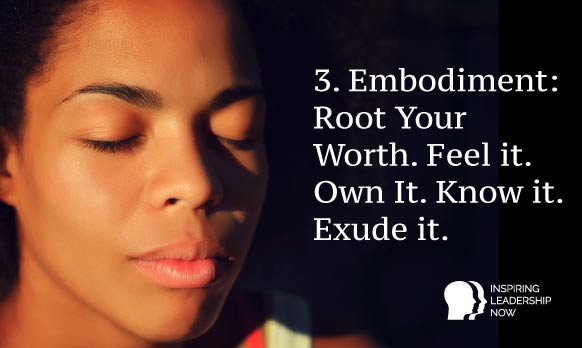 So often in the modern world women act based on what they "should" be doing – according to family, social, cultural or other pressures.
When you do this, you're acting in a disembodied way. You're not in tune with your inner core truth – your deepest calling, your purpose.
If you're living in a way where you're not listening to your truth, it's pretty much impossible to own your worth and unique gift to the world.
To live in an embodied way, you must be present to yourself – present to your emotions, needs, depth and truth. When you live in this way you exude the depth of your truth out into the world.
I'm sure you can think of someone whose mere presence is magnetic, even intoxicating. You may not know what it is exactly, but you just always want to be around them. Things seem to always work in their favor. They always have a relaxed, calm, unworried demeanor. They are self-assured. The opinions of others don't affect their self-esteem. They just "go with the flow" of life.
Magnetism is an inherent gift of femininity. An important note: This is not to say that only women can be magnetic – but that it's more of an energy thing. If you look at the duality spectrum of masculine to feminine, or of yin and yang, or of doing vs. being – you get a sense of the differences in these energies.
Western society leans heavily toward the masculine energy of go, productiveness, doing, drive, goal-orientation. And while this has reaped us truly spectacular advances in countless areas of our lives, it has often come at the detriment of the more feminine energy of being, feeling, depth and flow.
This can be seen when you look at the high rates of mental health issues, depression, anxiety, and stress over succeeding in life.
People not knowing how to relax, simply being present and enjoying their lives. And that lack of self-worth being probably the most prevalent root cause of people seeking therapy.
Thankfully, this is slowly being counteracted with the increasing trends in self-care and self-awareness practices such as meditation, mindfulness, yoga, emotional intelligence and viral TED Talks, such as Brene Brown's on vulnerability.
Magnetism can only be cultivated when you take the time to sit with yourself and be present to your own truth and worth.
This is a gift of the feminine depth, feeling and flow. And this is something many workplaces are sorely missing.
It is (sadly) still more acceptable for women to "have emotions" – often labeled as "irrational" or "unproductive." When in fact, this is actually a feminine advantage. By embracing your femininity – not hiding it – you can help balance the goal-oriented masculine drive of the business culture.
When you show empathy, vulnerability, it encourages others see that it's okay to not be right all of the time, and to ask questions.
This paves the way for improved communication and teamwork. A chance to discuss and fix roadblocks, rather than being too afraid to admit that they exist.
When you do this, you tap in the unique magic that is within you. And you can bring that to the table at the next meeting when you speak and simply be present from a deep feeling, personal-truth centered place.
Adding in this balance of the feminine feeling, depth and flow breathes new life into the monotony and beigeness that is the current state of many workplaces.
This is starting to be embraced in varying degrees in many newer start up companies – allowing mental health days, doing emotional wellbeing check ins, holding emotional intelligence trainings.
Some businesses are even starting to honor the more nuanced monthly cycle that women also live by (which will be covered in my next article) as opposed to being forced into the daily cycle that everyone lives by.
So How Do You Become More Embodied?
Embodiment can be practiced in many way, but here are a few great places to start:
Practice self-care, self-awareness and self-reflection. This is vital in embracing the feminine power. So many people disregard self-care as unnecessary and unproductive. But the more time you take to care for yourself and tune into your worth, the more this will be conveyed in your work. Even small things. Practice mindfulness in simple moments, like washing dishes, or making the bed. Keep the first hour of your day to yourself – don't check your phone or your email. Journal. Meditate. Do yoga. Do something creative.
Embody your vision. Feel it. Know it. See it. One thing probably all self-made successful people have in common is they felt their vision in their bodies. And then be patient while the process unfolds in time. For example, Michael Jordan saw himself making baskets before it happened.
Welcome emotions. Educate yourself and your team on discerning their emotions. Which ones are personal? Which ones are related to their work? Having an emotionally discerning team who can direct their passionate truths into their work is a true force to be reckoned with! Check out Susan David's book, Emotional Agility, to find out more about this.
While this article is by no means an exhaustive look at how to empower women in the workplace and bring balance to the feminine and masculine – I do hope that these 3 pillars provide you a solid foundation on which to start.
Awareness is always the first step in change. Action must be taken from an aware and educated standpoint. And, embodying your worth and leading by example is arguably the most powerful way to influence those around you.
This article was written by guest author, Megan Hart. Megan also writes inspiring stories and coaches people on how to live more embodied lives. Visit her website Megan Hart Coach to find out more about her work.