Last updated: 27 August 2021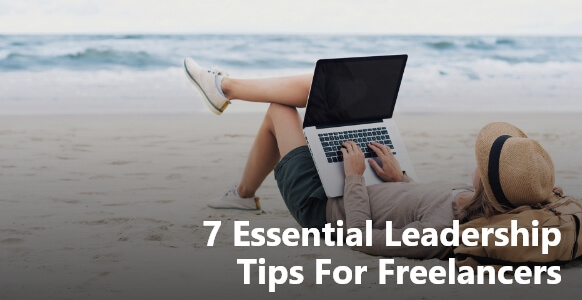 As you start your freelancing career, you're likely focusing on taking on new projects, building a client base, and honing your skills. But during a certain point in your career, you'll need more than technical skills and the willingness to work hard to thrive in your industry. You'll also need to establish a few soft skills, including the ability to become an effective leader. This article will cover some essential leadership tips for freelancers.
Some people are born leaders, but anyone can develop this skill set. If you want to advance in your career, you need to put in the work.
In this article, we'll give you seven essential tips to improve your leadership skills as a freelancer.
1. Work on Your Communication Skills
A good leader can effectively communicate with other people. They also know how to talk their way through difficult conversations that can potentially lead to issues between the parties involved. Being an effective communicator means being able to actively listen to other people and clearly express yourself.
Here are some of the ways you can improve your communication skills:
Be straightforward and stay on the message. Simple language is better for getting your point across.
Engage your listeners and practice active listening. Effective communication skills go beyond just talking. Actively engage with the person you're talking to. Asking follow-up questions and giving affirmative replies shows that you're paying attention and understand what they're saying.
Better understand nonverbal communication. Focusing on nonverbal cues and signals can help prevent miscommunication. It also signals interest to the people you're talking to. Pay attention to your body language and facial expression when talking to someone, especially in a professional setting. Be sure to limit hand gestures, maintain good posture and eye contact.
Ask for feedback. Ask for honest feedback on your communication skills from colleagues. This allows you to understand how your words come across your working environment.
>> Related article: Remote Leadership And Effective Communication: How To Communicate With Your Team Effectively And Give Support During Crisis
2. Be Socially Aware
A good leader sees the bigger picture and preempts problems before they come up. This is an invaluable skill for freelancers who handle multiple projects with tight deadlines. Developing social awareness can also help you seize opportunities that other people overlook. However, this can be challenging to develop when running a remote team, but you can become more attuned to your team members or clients with more practice.
3. Learn to Be a Follower
Good leaders don't have a problem giving control over to another team member when appropriate. You shouldn't also feel threatened if someone questions your decisions, disagrees with you, or make suggestions on their own. Keep an open mind and give credit where credit is due. If you learn how to value and respect the opinion of others, they will be more likely to support you as a leader.
4. Take on More Projects
An effective way to improve your leadership skills is to take on more responsibility. You don't need to go overboard and say yes to every proposal, but you do need to accept more than what you're currently doing in order to grow. Step out of your comfort zone, and you'll be able to learn something new or enhance your skills.
5. Be Disciplined
Developing discipline in both your personal and professional life is necessary to become an effective leader. It inspires the people around you to be disciplined in their craft as well. Your clients and team members will judge your capacity lead by the discipline you portray in your freelancing career.
Show your clients and team members that you're disciplined by meeting deadlines and attending and ending meetings on time. A disorganized person may have their work cut out for them. So, start small and cultivate good habits at home, such as waking up early, getting daily exercise, meditate, and work your way from there.
6. Be a Good Listener
A good leader means you're also a good listener. Listen to what your team has to say – listen to suggestions and constructive criticisms, and learn from them. As discussed in the first point, good communication isn't always about words, but you should also pick up on nonverbal cues, like eye contact and body language. Practicing active listening can positively impact the way you communicate with other people.
>> Related article: Why Developing Exemplary Persuasive Communication Skills Is Essential
7. Don't Stop Learning
Influential leaders always strive to learn new things and develop their skills. Learning something new keeps your mind sharp and your skills up to date and prepares you for new challenges that may come your way.
The Bottom Line
Leading a team doesn't come without any challenges, but developing your leadership skills out of these essential leadership tips for freelancers in mind, can open up new opportunities to take on more clients and larger projects as you build your freelancing career. Teaming up with others can also supplement your own skills and adding more to your resume.
About the Author
Rumzz Bajwa
Rumzz is a digital strategist and content marketer. She enjoys spending time with her family. She loves to go out and experience new moments whenever they came to light. Rumzz discovers satisfaction in investigating new subjects that help to extend her points of view. You can frequently locate her immersed in a good book or out searching for a new experience.