Last updated: 6 October 2023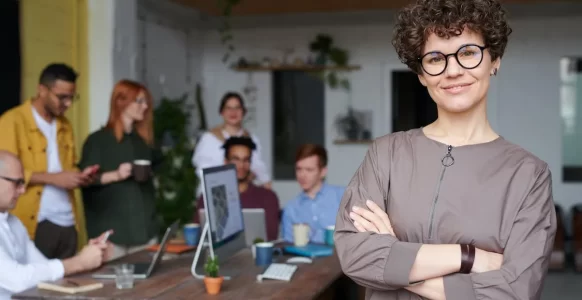 There's so much that goes into launching a startup, from setting the company's legal structure to financing it to marketing to ensuring customers are well taken care of. But establishing cohesive leadership might be more important than all of these.
Without a strong leadership team, your startup venture is likely to join the nearly 90% of startups that fail. Let's discuss the significance of building a strong leadership team in a startup and what to look for in leadership candidates hoping to come on board.
The Significance of Building a Strong Leadership Team in Your Startup
Your startup's success is riding on your leadership team. How well your employees perform, how collaborative your team is, and how much and in which ways your company grows all depend on the strength and ability of your leadership team.
The Foundation of Effective Collaboration
Your employees and managers must work well together for your startup to be successful. Also, teams must work together across departments to complete projects and achieve company goals.
Creating this kind of collaborative environment starts with your leaders. They exhibit what effective collaboration and communication look like. An excellent example is when an executive is hands-on in a project with lower-level employees rather than simply telling others what to do.
Leaders also pair up employees or put specific teams together to complete projects and tasks. This is why they must develop great relationships with employees, understand their strengths and weaknesses, and be sure to put their workers' skills to good use. But this is only possible with the proper leaders in place.
Pull the Best Out of Employees
Speaking of employees, it's so important that they bring their best to work each day. If they aren't productive and high-performing, your startup suffers.
Completing projects and tasks to the highest quality, establishing external relationships, generating sales, and all else that happens in a business aren't likely without highly productive employees.
Great leaders inspire the best in their employees. They motivate and instill confidence in them. They also create a collaborative culture that incites innovation, efficiency, empowerment, and happiness in employees.
Moreover, employees are more likely to do their best for leaders they trust. But unfortunately, only 21% of U.S. employees say they trust the leadership in their organizations, according to a Gallup survey on leadership and management.
A strong leadership team creates trust-filled relationships with employees and ensures that trust radiates throughout the workplace.
The Company's Future Is in Their Hands
Your lower-level employees mean so much to your startup. But the company's future is ultimately in the hands of the people who make decisions and run it. And that's your leadership team.
If you want a successful future, your business must be built on your and your leadership team's strengths. After determining what hard and soft skills your current team has, you can place a leader with the expertise you lack in the departments and roles that need them. You can also select people who align with your company's values, and who have skills that are needed in your industry to excel.
For example, if you're good at getting funding for your business and are the creative vision behind it, you can focus on those things. Then, you can bring a strong leader on board who's great at marketing, one who's skilled in sales, another who's adept at data analysis, and so forth.
You can use the skills your leaders have effectively to drive your business toward a successful future.
What to Look For in Leaders
Now that you understand the significance of strong leadership in your startup venture, you're probably wondering what makes someone a strong leader. What exactly do you look for in a person to know they'll be able to streamline effective collaboration, delegation, and teamwork?
Top-Tier Communication Skills
One cannot call themself a strong leader without top-tier communication skills. They must be able to communicate with employees and create a system for internal communication that's highly effective. Communicating persuasively with stakeholders, customers, and external partners is crucial too.
Leaders should have good written and verbal communication skills. They should also be adept at various types of communication, including emotional and nonverbal communication, and different communication methods, such as email, text, and phone.
Ultimately, transparent, consistent communication is the best way to ensure things get done in your startup, and you need that from every leader you bring in.
A Willingness to Learn
Strong leaders have a lot of knowledge and experience to bring to your company. But they don't know everything and won't be masters of all. The leaders that know this and have an insatiable appetite for learning are who you want on your team.
The startup culture and business industry, generally, is ever-changing. You need leaders who are willing to learn all of the time to ensure your business adapts to changes and unexpected events without a whole lot of issues.
For instance, small businesses are a big target for cybercriminals. If a leader doesn't know this and never bothers to learn about it, their startup will likely become a victim of a cybercrime that damages their finances and reputation.
But if that same leader were eager to learn, they'd likely come across data on cybersecurity incidents among small businesses.
Armed with that information, they would look for and implement solutions that improve their business's network security and prevent potential cybercrimes, like installing firewalls and anti-virus software on all devices and teaching cybersecurity best practices to employees.
While many leaders may feel they know it all, the leaders you're looking for are eager to learn at every turn.
Confidence and Authenticity
Great leaders exude confidence. Don't confuse this with arrogance. They aren't demanding, controlling, and overbearing in conversation and action.
Instead, they believe in themselves and present their perspectives professionally and respectfully. They embrace their team and aren't threatened by the talent of others. They know their worth and are authentic in their actions and thoughts.
Take your time building a strong leadership team with individuals that have the skills and qualities above, and you're startup is sure to thrive.