Last updated: 6 October 2023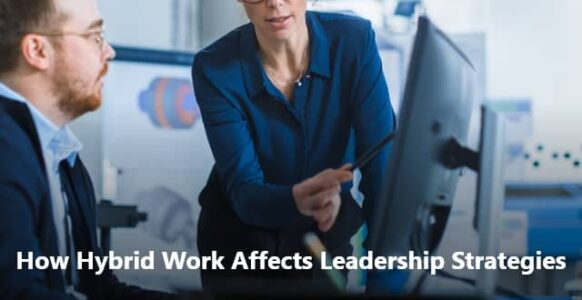 The COVID-19 epidemic came out of nowhere, surprising many organizations and requiring their CEOs to reevaluate their readiness for emergencies. Even before the epidemic, several corporations had begun a digital transformation, hired remote employees, and taken other steps to boost organizational agility. Leaders who got through the crisis intact would like not to have to go through it all over again. And that's why 60% of employers plan to increase spending on hybrid workforce tools and training.
Leadership in the hybrid era requires a new way of thinking and doing things. These abilities encourage cooperation among workers to guarantee continuous output no matter where they may be stationed. The COVID-19 pandemic brought about a transition that required strong leadership to confront and overcome the new challenges.
Working in hybrid capacities has become the norm in the wake of the epidemic. To successfully manage hybrid teams, leaders must cultivate the skills and strategies necessary to adapt to new circumstances. This article discusses how hybrid work has impacted leadership tactics and how it has evolved.
Workplace Transformation Entails A Shift In Leadership
When the pandemic hit, workers stayed home instead of coming into the offices. Great leaders recognized that the circumstances necessitated a more relaxed approach to conventional deadlines and a less stiff tone in the workplace. The traditional 9 to 5 workday and offices are becoming antiques as more and more Leaders see the advantages of granting flexibility to workers. Workers now have greater control over their schedules and hours.
Influencing Others And Having Your Voice Heard
Before the advent of the hybrid work model, all employees worked in the same workplace; thus, conducting meetings or discussions was easy. Leaders in the hybrid workplace have to depend significantly on electronic means of communication and persuasion. Consequently, adapting to and using emerging technology is crucial for success in the modern world. In a hybrid workforce, leaders must be able to coordinate efforts, share information, provide and receive constructive feedback and manage teams throughout the workweek.
Creating A Culture Adaptable To Remote Living
The hybrid workplace is relatively new, and many companies have difficulty making it work. Employees now see work-life balance in a different way. Thus, companies should exert more effort to foster a culture that supports working remotely. Organizations can illustrate the benefits of a hybrid culture by pointing to existing ones. A good attitude toward a hybrid culture may be fostered in this manner. It's essential for attracting and keeping quality workers.
Home-Office Connectivity
Managing a mixed workforce adds new layers of complexity to the existing team dynamic. Ensure you obtain effective communication solutions that all employees in a hybrid office can utilize. With the help of task management software, a distributed team can always stay on the same page and in the loop.
Leaders are not only seeing the value of cutting-edge hardware and software for increasing productivity, but they are also providing dedicated areas for each of their teams. They have started using different office spaces in New York and other locations, including Kansas, Colorado, Texas, and many others.
42% Of Respondents Feel Hybrid Working Improves Work-Life Balance
Modern workers have little patience for leaders motivated solely by their own egos. A leader who declares that they are in control and wants all workers to relocate back to the office will be firmly rejected by their staff. Scalable discovered that 42% of those who tried hybrid work believed it improved their work-life balance, while 33% reported it increased their productivity. Leaders are responsible for encouraging teamwork and expressing the significance of participation in achieving the objectives of the team and the company.
The Bottom Line
The nature of work has evolved, necessitating a new approach from leaders. Challenges arise while leading a hybrid team, but you can boost engagement and productivity with the correct approach. This way of thinking fosters innovation, collaboration, self responsibility, and company adaptability. To be an effective hybrid leader, you need to be trustworthy, provide a secure environment for your employees, and have vital emotional intelligence. Improvements in these areas make for a more suitable hybrid workplace.