Last updated: 2 June 2023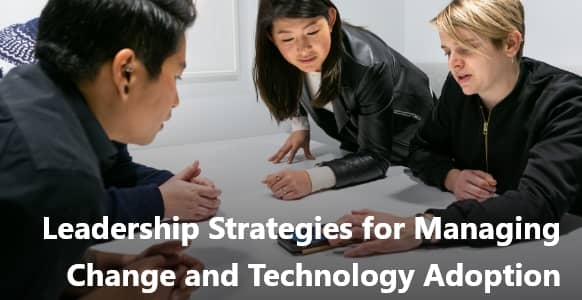 Effective leadership can make a world of difference during transitions. Staff who feel supported by their leaders are far more likely to embrace new technology and may be more willing to come forward with concerns if they feel safe sharing their thoughts with management.
However, managing change can be tricky. Leaders need to adopt a collaborative, open approach to management during times of transition or growth. This will help employees feel supported and may foster a more positive "can do" attitude within the company.
Pilot Programs
Rolling out new technology can help businesses stay competitive in the high-pressure world of business. This is particularly true today, as most businesses are embracing digital transformation and are making full use of autonomous deep-learning programs. The benefits of automation technology include:
Increased efficiency;
Reduced operational costs;
Fewer errors;
Improved creativity.
However, automated programs and artificial intelligence (AI) software should be introduced with caution. Untrained staff may not understand how to utilize the new technology and may even resent some changes that the new technology introduces.
Leaders can increase adoption by rolling out pilot programs before making company-wide changes. Pilot programs give employees a chance to contribute feedback so the company can adapt its approach before scaling up implementation. This ensures that current staff feels valued while minimizing the risk of costly errors during the adoption phase.
Continuous Learning Culture
Some employees may find new technology intimidating. This is understandable, as many workers have been using the same techniques and technology for years. Leaders can help staff overcome the emotions associated with change by instilling a culture of continuous learning in the company.
Leaders who want to improve their workplace should start by identifying what type of workplace culture reflects their company values, and then seek to implement programs and opportunities throughout their business that focus on these qualities. They should then offer chances for bonding and community building. Employees are far more likely to treat each other with respect and grace when they understand one another on a personal level. Consider hosting bonding sessions like:
Hiking;
Trips to local botanical gardens;
Staff vacations;
Film and/or book clubs.
These culture-building activities encourage collaboration and can build bonds between employees. Follow up by encouraging staff to engage with cross-departmental projects when possible and set aside time for experimentation. This will encourage a culture of learning and help staff feel more supported when they are struggling to get to grips with new technology.
Establishing Key Metrics
Failing to adapt to new technologies is one of the most common mistakes in business. Entrepreneurial brands must respond to new tech to improve their operations and remain competitive in the ever-changing world of business.
However, businesses should not adopt new technology without measuring the impact that new tech has on profitability. Automated software and robots that connect to the Internet of Things may impress new hires but, ultimately, new technology must support leaders in growing businesses.
The exact metrics that a business chooses to gather depend on the goals of the company and the market it operates within. However, leaders should always gather qualitative and quantitative feedback to get the best understanding of how new technology is impacting their firm. This feedback should be measured against relevant key performance indicators (KPIs) as well as profitability measures for a holistic overview of the business's response to new tech.
Leadership Training
Leadership training is widely overlooked during times of growth, change, and technology adoption. However, leaders need to invest in their own skills if they want to meet the demands of an expanding business.
Time is a precious commodity for leaders in growing businesses. Managers and executives may not have time to attend seminars and leadership conferences while rolling out new technology and managing change within their own businesses.
Instead, the leaders of today can find support from online platforms that encourage leadership training like that of Inspiring Leadership Now's Leadership Online Training, The Leader's Edge that can be done anywhere, any time and on one's desired pacing.
Leaders can further improve their training by finding a trusted mentor within the industry. Over 92% of Fortune 500 companies have a formal mentorship program. A great mentor may not understand the new technology that a company wishes to roll out, but they can help leaders navigate the unexpected challenges that they face during times of change and growth.
Conclusion
Adopting effective leadership strategies during times of change and technological transition is key to long-term growth. Managers and executives can improve their chances of finding success by utilizing pilot programs to test new tech and gather employee feedback.
When the company does decide to roll out a new piece of software or hardware, leaders should encourage a culture of continuous learning to support staff and help them overcome setbacks. In the weeks and months that follow, leaders should track key metrics and engage in leadership training courses that help them develop their skills while the business expands.