Last updated: 15 June 2020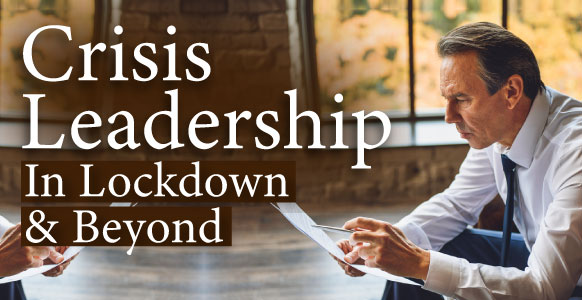 In the midst of the worldwide Covid-19 pandemic, the concept of "work" has changed dramatically in a very short space of time.
While some people have always worked from home, the vast majority have not. For them, things couldn't be any more chaotic or surreal.
The workspace has vanished, and so have their colleagues.
There's no-one they can turn to when they need to ask a quick question, or when they want to tell a funny story.
Those interactions, however small or trivial, are gone, at least for the time being. That means they're forced to find a new way to get the job done in a totally non-work-related environment.
And while remote working might seem to have certain advantages, like no rush hour traffic, the ability to work in your pajamas, and so on, it's actually a case of reality being much more mundane than any romanticized ideal.
The truth is that remote working can be a real challenge. Ask anyone who's been doing it regularly for a number of years.
So what are some of the issues your workers are likely to be confronted with?
Some Of The Challenges Connected To Remote Working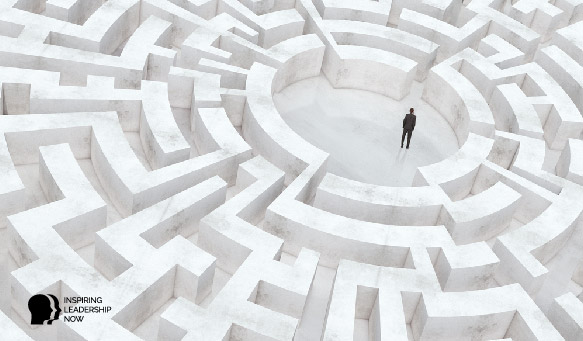 Anybody working remotely for the first time may find themselves unable to cope in their new environment according to Harvard Business Review's article A Guide to Managing Your (Newly) Remote Workers.
But what kinds of things might they have trouble dealing with?
1. A Sense Of Isolation
Without the social interaction of the normal workplace, it's easy for workers to feel lonely. And the more extroverted their personality, the harder it is for them to adjust.
They need to be able to connect to members of the team regularly to avoid feeling neglected or forgotten, which can destroy morale and lead to a lack of motivation.
2. A Lack Of Personal Interaction
Workers need to be able to see you. It's important because you both communicate with more than just your words.
From the manager's point of view, being able to set eyes on your workers is a good way to ensure that they're doing what they're supposed to be doing.
For workers, it provides an opportunity to update you on their progress, get feedback, converse with another human professional, and ask for any support they might need.
3. A Disjointed Schedule
If everyone's working remotely, that makes inter-office communication difficult. Getting answers to questions might have to be done by email or some other messaging system, which won't be as prompt as in a face-to-face environment.
That can make progress grind to a halt, whereas a couple of carefully-timed conference calls can make sure it doesn't ever get that far.
4. Working From Home
Workers will need to find a space to work in.
Seems obvious, but there are bound to be dozens of distractions, especially in times when many families find themselves thrown together for days on end.
Partners, children, pets – they can all eat into your workers' time and attention. It's not always possible to shut the door and switch off, so managers should make allowances and expect things to take a little bit longer.
Every worker is different, and the sudden change will affect them mentally and emotionally in different ways. Some will relish being able to work on their own, while others will miss the buzz of the office.
Having to potentially learn new technologies can cause stress, and there's a good chance that productivity will drop, at least in the beginning.
Coping With The Challenges Of Working Remotely
Here are some things you can do to maintain momentum and help your workers navigate through such a unique and difficult time.
Make Daily Check-ins A Priority
This helps establish a routine and gives workers the chance to ask questions, get answers and raise any concerns.
Use All Available Communication Sources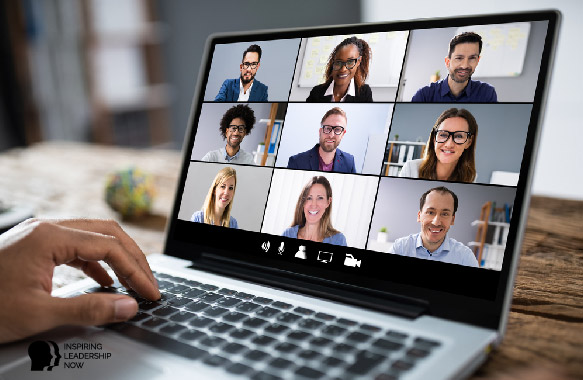 You could use video conferences for daily check-ins and face-to-face meetings, email and text for quick messages, and one-on-one video calls for more sensitive issues.
Be Supportive
Keep in touch and make sure your workers are coping, as the sudden change to working from home can be stressful and can take some getting used to.
Arrange Virtual Social Events
Use technology to bring workers together outside of normal hours, for an office drinks party, for example, where they can communicate with each other on a more casual level – but ONLY if there is an expressed interest to do so. Don't force the need to be more social, especially if people are feeling overly anxious and overwhelmed.
As a leader, you need to be mindful that your workers will be experiencing fear, anxiety and grief.
They'll feel under pressure but might find it difficult to perform to their usual levels, especially when there are so many distractions within arm's reach.
It's important to be empathetic and remember that this is a global situation and that everyone is in the same boat.
How To Be A Strong Leader During A Crisis
Writing in C&IT Magazine, Andrew Reid says that the biggest problem faced at this tricky time is the uncertainty. No one knows how long things will go on as they are, or what the aftermath will bring.
The key to survival, according to Reid, lies in "collaborating as a tight-knit team" focused on "shaping the future and keeping communication real." He suggests a number of leadership qualities you'll need to help pull your workers and your business through to the other side.
1. Put People First
By working from home your employees are protecting themselves and each other. Their safety (and yours) is critical so acknowledge that they're doing their part and thank them for it regularly.
2. Be Transparent
Keep your team up to date with how your business is doing.
Is there a risk of job cuts or major changes? Is their job safe?
Alleviate any fears or anxieties by being honest and painting a realistic picture.
3. Stay In Touch
As mentioned above, try to communicate with your team at least once a day to touch base, to share any news and to pass on industry updates.
4. Plan Ahead
Involve your whole team in thinking about what they can do to make life easier once the situation resolves itself. This is a good way to get lots of ideas and to keep employees invested in your company's success.
5. Look After Yourself
Everyone is affected by this crisis in one way or another, and you can't be an effective leader if you're struggling to cope. Talking to colleagues about the situation can help you unburden yourself and put things into perspective.
6. Be Decisive
It's an unusual situation where things can change in a flash, so be ready for some quick decision-making.
7. Stay Positive
This can be difficult depending on your personal circumstances, but humor can help lift your mood.
There's also the option of organizing events outside office hours that staff can get involved in, such as online quizzes, puzzles and games.
8. Keep Everyone In The Loop
That includes furloughed staff, who might not be working but who can still access online training opportunities that will help them readjust back into the fold when the dust settles.
Being a leader also has financial responsibilities. It's important for managers and department heads to get together and analyze the numbers.
Some of the financial responsibilities of remote managers are listed in the image below: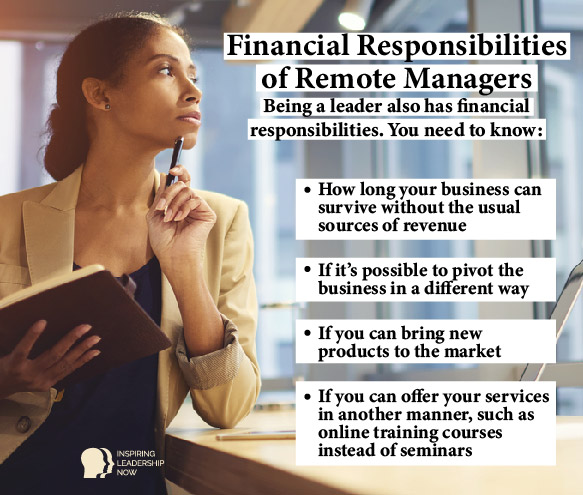 Companies across the world are retooling and using their expertise to churn out products in high demand in this crisis, from pieces of protective equipment to ventilators. In times of chaos you need to be able to adapt. And when the worst is over, some of the new products and ways of working could well become permanent fixtures in a company's portfolio.
>>Related Article: How To Be An Incredible Remote Leader: 10 Ways To Build Trust, Support & Get Shared Results
What Would Jacinda Ardern Do?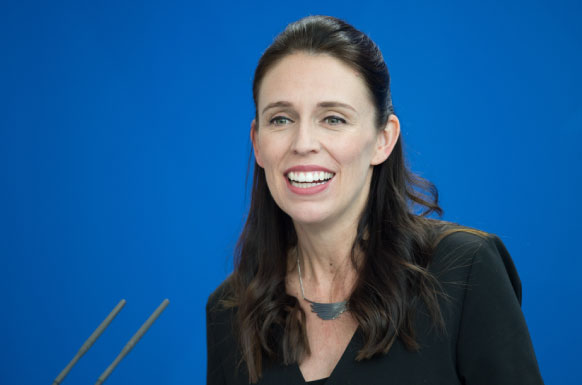 According to American professors Jacqueline and Milton Mayfield, leaders need to address 3 issues if they want to motivate their workers to do their best, namely:
Direction-giving
Meaning-making
Empathy
New Zealand prime minister Jacinda Ardern used all 3 in her response to the Covid-19 pandemic. She acted early, locking down the country by telling New Zealanders to "stay home to save lives" – an instruction packed with direction and meaning.
She went further, acknowledging the levels of disruption and how difficult things were going to be, empathizing with her fellow citizens.
Ardern's leadership skills don't end there. She gives daily televised updates and uses Facebook to clarify key questions.
She also developed a four-level alert framework so that people would know what was happening and why.
Ardern released the framework a few days before calling for the lockdown, which gave people time to absorb the information and also meant they wouldn't get too distressed when the lockdown request finally came about.
This is a significant point to keep in mind, because one of the hardest things for people to cope with is change, especially when it's as traumatic as this and causes so much upheaval to their normal lives.
Top Tips On How To Accept & Cope With Change & Upheaval
You can help your workers get through tough times and cope with remote working by giving them some practical advice.
An article in Psychology Today highlights coping strategies for big life changes, some of which are summarized below:
Stick To A Routine
As much as possible, your remote workers should organize their day as if they were in the office.
They should answer their emails, attend virtual meetings, and even have their breaks including lunch at the same time of day as they normally would. A schedule like this will help keep things as normal as they can be.
Eat Healthy Food
It can be tempting to reach in the cupboard when you know treats and snacks are available.
Try instead to only eat at mealtimes, and if that's impossible try to snack on fruit or nuts to keep energy levels up.
Get Regular Exercise
Even if you're in self-isolation you can still find time to exercise.
There are tons of routines online at sites like YouTube that will only take 10 or 15 minutes to complete. These could also be scheduled into your routine and will help keep you energized and fit.
Ask For The Support You Need
Remind your staff that they're not alone and that you're available to help with any problems they might have.
If necessary, set up specific times when they can contact you and be sure they know that all topics are on the table.
Focus On The Positives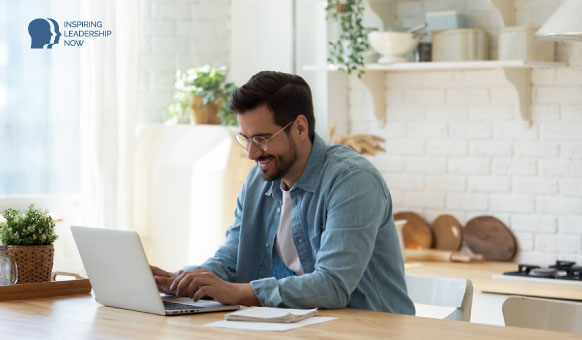 There are often positive outcomes as a result of change. Encourage your workers to focus on those, even writing them down when they happen.
Maybe they've become more confident with software or have more time to solve a work problem that's been niggling away at them.
If they're not used to it, working from home can be a real challenge. Encourage your team to work in short bursts and to take frequent breaks.
One way to achieve that is to set an alarm for an hour, say, and to work until the alarm goes off. Take a 10-15-minute break for a piece of fruit, a drink of water, a quick bit of exercise, and then do it all over again.
Working like this will ensure that they don't get too stressed and will help them stay focused when they are working. Taking breaks gives them an opportunity to forget about work briefly while they refresh their minds and bodies.
Through these simple techniques, remote leaders will be able to help their workers stay mentally and physically fit throughout the crisis and be able to bounce back to normal as soon as the opportunity arises.