Last updated: 3 June 2020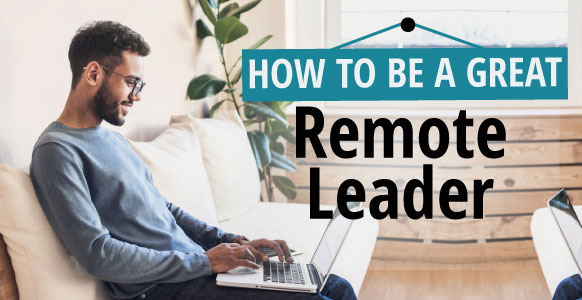 Leading people can be highly challenging – whether you're working in the same building or you're spread across the globe.
You still need to focus on the elements that have always made leaders effective.
For instance, good leadership involves taking action that leads to identifying and reaching your goals in order to achieve results.
According to the book "The Long-Distance Leader, Rules for Remarkable Remote Leadership" by Kevin Eikenberry and Wayne Turmel, strong leadership calls for vision, influence, direction, and development.
The book goes on to point out some of the rules you should follow in order to become an outstanding remote leader.
Here are 10 of the most significant.
10 Ways To Be A Brilliant Remote Leader
1. Put leadership first, location second
Focus on the people you're leading and not on where they might be working from. Since you can't be there yourself, you have to have faith that your workers will manage their time efficiently and effectively.
It might be tempting to micromanage staff that you can't physically interact with. However, each worker's home environment will be different and will present them with unique challenges.
It would be better to offer as much support as possible and let them establish their own routine and working practices, as long as they remain productive.
2. Leading remotely means leading differently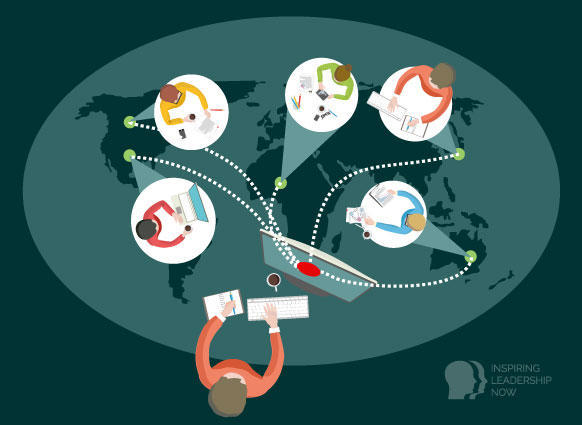 It's easy to communicate face-to-face. You can speak, listen, make eye contact, and read body language.
With remote working, however, things are different. Emails and messages can easily be misinterpreted. Video calls are a bit better because you can see the other person's face, but taking note of their body language can be difficult.
That's significant, because only about 7% of communication is verbal, while around 55% is non-verbal, relating to gestures, posture, eye movement, facial expressions, hand signals, and so on.
As a leader, you need to be crystal clear about exactly what you mean in every form of long-distance communication.
One way to make things easier is by building rapport with the other person, so that even though you're in separate spaces you can still feel connected. You can do that through the type of language you use.
For example, does the person you're talking to focus on the big picture or on the nitty-gritty details?
Are they more visually oriented (I see what you mean) or more auditory (I hear what you're saying)?
Are they more factual (I did this and that) or more emotional (it was an awesome experience)?
By matching your language with theirs, you're able to "identify" with them. They'll feel like you're in sync with them. That means they'll be more likely to listen to what you have to say, making your communication even more effective and productive.
Another tip is to use the other person's name as much as possible, which also helps to make things more personal.
3. Remote leaders must reach many kinds of objectives
It's vital to make your organizational targets clear since remote workers are physically detached and likely to focus on their own goals.
You need to state your expectations regularly, perhaps once a week, making employees responsible for meeting them. Keep them "tuned in" by ensuring that their individual goals (i.e. completing a specific piece of work on time) fit in with the company's goals (i.e. getting a project finished on the budget).
4. Coach your team effectively, wherever they are
To be an effective coach you need to do more than delegate.
You need to remember that communication should be a two-way process. As well as telling your employees what you want them to do, you also need to be able to listen to what they have done and what things are concerning them.
Give them regular feedback so they know what to expect from you.
Also remember that, as a leader, everything you say carries weight. That means every time you communicate you need to be clear and precise so there are no misunderstandings.
5. Communicate in the ways that work best for others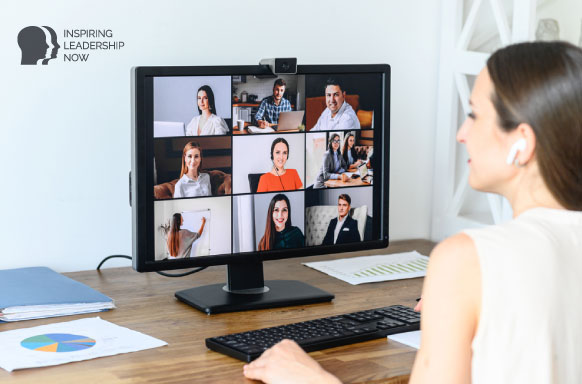 Every person who works for you might have different preferences when it comes to communication.
Some might like a daily check-in, while others might prefer to catch up once a week. Some will relish a video or conference call while others might prefer email or messaging.
It might be a good idea to tailor your communication to each of your worker's preferences, needs, and personalities.
A one-size-fits-all approach is likely to cause problems and lead to frustration and anxiety, which will make true and meaningful communication impossible.
6. Building trust at a distance doesn't happen by accident
How will you know that your staff are working properly if you can't see them?– by the results they produce.
Trust is a two-way street and is evidence-based. If you trust your workers to get their work done, then they should be able to trust that you'll let them get on with it.
Depending on your check-in schedule, it might not be possible to know what your remote workers are doing hour-by-hour or day-to-day. But because they have the freedom to work when they want to, and to stop when it's not going well, remote workers can often be more productive.
They don't need to "pretend" to be working when a supervisor or manager walks by, plus they're able to take a short break to refresh themselves without feeling guilty or getting harassed by colleagues.
7. Identify the most effective communication tools
What tools are best for virtual communication?
Slack is a chat system and online collaboration hub. You can use it for private 1-1 chats or for group chats where users can post requests about projects. It's an efficient system because everyone can see who has been asked to do something and when.
Zoom is a video conferencing tool that is more reliable than Skype. The basic version is free to use allowing 40 minutes of video conferencing for up to 100 attendees. After that time you can simply initiate another video conference call if you wish.
Trello is a collaboration tool for organizing your projects into virtual boards. You can instantly see what's being worked on, who's working on what, and what stage you've reached on a project.
Zoho is a web-based online office suite designed to help with every aspect of your organization. It includes software for planning and tracking projects, setting up meetings and webinars, tracking leave, virtual training, and other business needs.
8. Examine your beliefs and self-talk
To be an effective leader, you have to believe in your leadership abilities. You can't do that if you're constantly doubting yourself.
Negative self-talk will sabotage you and make it difficult to get things done. Try not to focus on the things that go wrong or the things you did badly. Likewise, leave whatever happens in the past and don't dwell on any mistakes.
One way to keep your self-belief strong is by using positive self-talk.
That means telling yourself that you're doing your best, that you always intend to do better, and that you're constantly learning from any mistakes you do make.
9. Accept that you can't do it all
You might be a leader, but you're only one part of a team.
You can't do everything on your own. Your job is to organize tasks, arrange timetables, and set goals so that your long-distance workers can carry them out.
Take care of your side of the equation and let everyone else take care of theirs. That gives you time to look after yourself and your loved ones, knowing that you've met your professional obligations.
10. Balance your priorities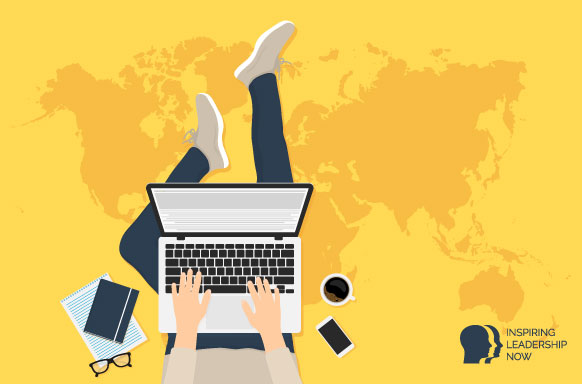 Carrying on from point 9 above, you need to make time for everything in your life.
That means making choices about how much time you devote to professional and personal demands. Your time is valuable and limited, and you can only do so much in a day.
Think about managing your time so that it allows room for the most important people in your life, for self-development, for reading, meditating, exercising, spending time with friends, and participating in community activities.
In order to achieve that, make sure the workload is distributed evenly.
You're only human and you have limitations. So don't try to do everything yourself. It will also help if you set and stick to strict work hours and encourage your team members to do the same.
Once the working day has ended, give yourself permission to do other things, which is particularly important for your mental and emotional well-being.
As well as these 10 rules, there are a few other things leaders need to keep in mind:
Not everyone is suited to home working.
It takes time and commitment to get used to working from home and it's tougher than we thought.
As a leader, you need to uncover the issues that your remote team members might be grappling with and offer them meaningful solutions. That might mean spending less time on video calls and putting more effort into communicating the status of projects.
Be compassionate and understanding.
Something like the coronavirus pandemic forces people to work from home. The whole world has changed in a matter of weeks so that everything is done through technology including work, communication, staying connected, TV, and even exercise. This necessary reliance on technology can lead to digital overload.
To counteract this, encourage good mental health practices with your team. That might mean anything from taking regular breaks to reaching out if they need support or are suffering.
It's important to note that everyone copes differently. For instance, some workers might be trying to juggle their work responsibilities by looking after children. You need to be as flexible as possible so that everyone feels able to get their work done in a way that suits them and their personal situation.
Be even more vigilant about wasting time online when working from home.
That means reducing screen time and increasing productivity by disabling social media notifications and cutting out useless scroll time.
When you or your team members are bored, try doing something that's more conducive to your mental health, productivity, and focus, such as a bit of exercise, reading a book, a spot of housework, and so on.
One way to achieve this, is by making a daily work plan and sticking to it.
Turn off any alerts that might be distracting you. Close down social media sites and devote time to them only when your schedule allows. If necessary, install software like Cold Turkey that blocks specific sites and services while you get on with your work.
There's no question that when the Covid-19 dust settles, the workplace as you know it will be altered forever. Working from home might well become the new normal. If that's true, then there's never been a better time to work on and improve your remote leadership qualities.