Last updated: 20 May 2020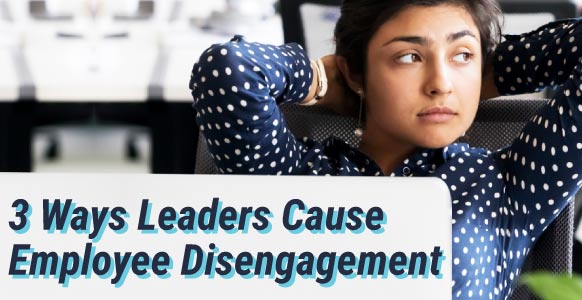 Want to charge up your leadership skills in just a few minutes a day? Get your FREE Inspiring Leadership Cards Quote Deck for 49 powerful leadership quotes from history's greatest leaders and practical action steps you can apply to your career right now. But hurry! Supplies are LIMITED so don't miss out – grab yours now! (Just cover S+H)
The morning alarm goes off, you open your eyes and remember it's a workday… Do you roll over, sigh and wish it were the weekend already?
Do you then spend your workday going through the motions of your job?
Or do you find yourself "checking out" by not engaging with your role or your team?
Okay, so we all have off days. But if this is your norm and you're taking your disengagement into work, it could be that you're having a negative effect on your team's engagement levels.
Without realizing it, you could be sabotaging your colleague's moral and actually spurring their sense of disengagement.
Or, perhaps the opposite is true, and you're feeling the adverse effects of someone else's disengagement? For instance, your job makes you feel inspired and you're full of ambition, only to find that when you're taking your ideas, feedback and innovation to your superiors – you're encountering a closed down or negative response?
If either of these above scenarios sounds familiar, read on!
According to author Brigette Hyacinth in her viral article Loyal Employees are your Most Valuable Asset, she states:

"An employee's relationship with their manager sets the tone for their level of commitment to the organization's success. Gallup research shows that a mind-boggling 70% of an employee's motivation is influenced by his or her manager."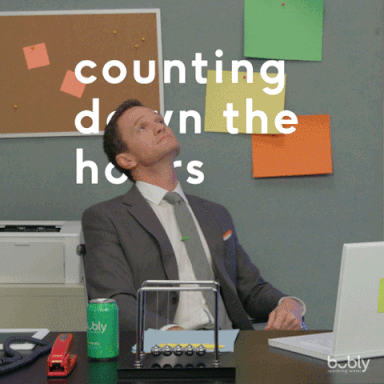 Eeek, 70%! As a leader you're likely having more of an impact on the engagement levels of your team than you had previously realized.
With all this influence as a leader or manager, let's look at 3 ways you might be contributing to dwindling team morale.
The 3 main sources of disengagement stem from:
When top management stops being engaged
When leaders don't value or encourage honest feedback
When the workplace has become a toxic culture
So let's dive on in to see how each of them cause problems with morale:
1. When Top Management Stops Being Engaged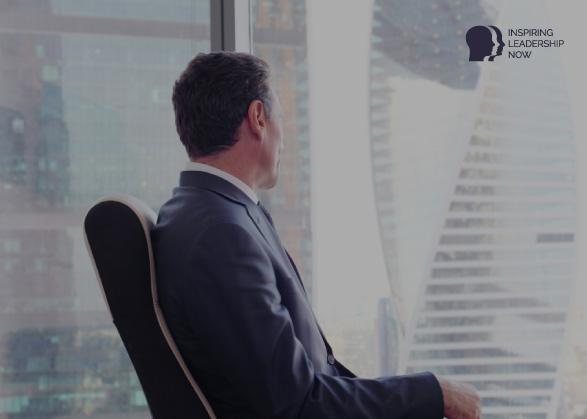 If the players at the top level are disengaged this disengagement filters down the line. It's infectious. According to the Inc.com article, 68% of Employees Are Disengaged, But There Is a Scientifically Proven Way to Boost Engagement, the stats look bleak:

"According to 2015 data from Gallup, only 23 percent of employees in the US are engaged. Their data, which was largely unchanged from 2014 and previous years, shows that 51 percent of employees are unengaged, and 17 percent are actively disengaged."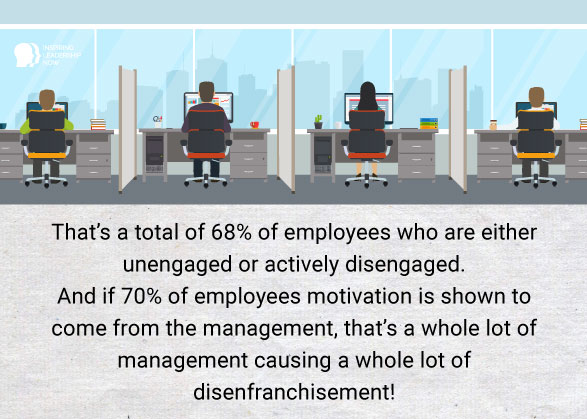 If you as a leader, or if your boss doesn't care… why would you or your staff? Even the most loyal of employees will eventually check out.
Why is this?
Fundamentally, it comes down to science. It comes down to what scientists call the seeking system.
Essentially, your brain is hardwired to enjoy learning. You're wired to derive a sense of pleasure and purpose by searching for solutions and solving problem in new and creative ways.
When the seeking system is stimulated the brain releases a dose of dopamine, one of the body's feel good hormones; this makes you feel good.
You feel engaged because you have a sense of value in bringing your skills to the table thereby contributing to positive outcomes in an active, autonomous, innovative way.
You know how it is – when management or leaders don't encourage new ideas unless they've come from themselves, nothing is more de-motivating!
This is because at a neurological level, this closed-down managerial approach actively hampers the seeking system response.
When you're working for someone who thinks they know it all, have all the answers, and don't want input from others they are shutting down the engagement of you and your co-workers because they are shutting off the 3 ways that your seeking system, your inner sense of satisfaction and curious interest is stimulated.
Those 3 factors are:
Self expression. Experimentation. Purpose.
So, use the science. Turn disengagement around by tapping right into the seeking system!
• Self-expression: bring both your own and your team's unique skills and qualities to the table. Offer regular positive and constructive feedback, nurturing the sharing of best practices at a monthly lunch meeting, for example.
• Experimentation: create a "safe zone" to experiment, shifting the emphasis away from "getting it right" and focus on changes or issues as opportunities to come together and innovate rather than a measure of performance. Set the stage for some lateral problem solving, in activities such as team building days – out of the office. Or consider 20% Time – a practice used at Google, where 20% of working time is spend working on anything. It might seem risky but it works – half of Google's new products are conceived during 20% Time.
• Purpose: cultivate a personal connection between your co-workers, and also between your staff and your end users. Listening to and understanding the needs of your clients with a genuine desire to help shift the focus and boost engagement so that staff feel motivated to best practice through a strong sense of purpose.
Scientific research shows that connecting teams to customers is key to employee motivation. According to the Harvard Business Review article, Why People Lose Motivation – and What Managers Can Do To Help, it can make a huge financial difference, too. The article gives an example of how when a group of scholarship-fundraisers were met and were thanked by the scholarship students (for whom they had raised the money), the revenue raised went up to $9,704.58… compared to $2,459.44 for fundraisers who did not talk to scholarship students. In round figures, that's a $7, 000 increase!
That's a lot of motivation.
In short – USE the seeking system: play to strengths, create opportunities to experiment and realize the purpose of work through developing relationships.
Additionally, in Kevin Kerridge's article, Top Employees Checked Out? Here Are 4 Simple Steps to Save Disengaged Talent, he says to protect your business's bottom line and maintain a loyal and motivated workforce, you need to adopt a "spider webbing strategy."
In other words by making it possible for your team to move through the business in every plane, every direction, as a spider would. Spider webbing essentially means creating the structure and the opportunities to rotate employees through different areas and roles within the company.
This boosts employee engagement by allowing them to apply their skill set to other departments, it might mean some additional responsibility and encourages a fresh approach. It will keep employees motivated, positively challenged by devising space for growth and development.
To back up the transition model within the organization, Kevin also advises a solid foundation of communication and relationship-building as a foundation with the following:
Offering incentive and advancement to employees via transitions to different roles within the company
Support all transitions with a plan
Regular performance reviews – informal and consistent catch-ups are vital. A monthly check in for example
Communication – keep the discussion rolling and the check-ins in the diary, even after the transition
All this talk of communication brings us on to the next point: feedback.
And more specifically the lack of! One of the key things as an effective leader is being open and receptive to feedback, AND acting on it.
If you are closed down to it, or if you do not act on the feedback that you are given, it is likely that you are contributing to a significant downturn in team morale.
It is also likely that as a result the culture in your team or through-out your business is a "yes culture", one where people are too scared to speak up, to voice their opinions and to use their skills they've been hired for because they fear they won't be seen as a "team player."
Worse still, they might be side-lined or even punished for paying more than lip-service to feedback. It is inevitable that in this kind of set-up employees eventually stop caring and become disengaged.
2. When Leaders Don't Value or Encourage Honest Feedback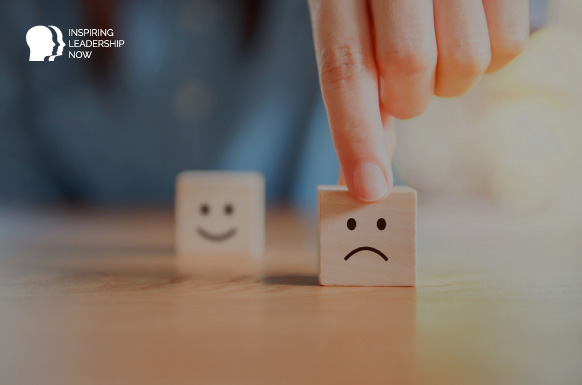 Be honest, as a leader do you openly solicit genuine feedback?
This doesn't mean waiting for points to come up in a meeting or annual review, or survey. This means actively going after feedback on a consistent and regular basis.
It also means taking the feedback on board and acting on it. It means putting in place revised systems and strategies for the betterment of process and morale.
Do you do this?
Even if it means reviewing, changing or ditching aspects of your own initiatives? How many leaders can say that this is genuinely a part of their working practice?
Not many!
The reason is that really listening to feedback takes a great deal of humility and resilience. According to Brigette Hyacinth in her article Never Punish Loyal Employees for being Honest:

"Listening is the most powerful skill a leader can master but it requires humility."
The predominant and fast becoming outmoded style of traditional management is very top-heavy, in other words all the power rests with them at the top.
It's a small wonder that in this model anyone not in the upper echelons is disempowered and therefore feeling disengaged. What it also means for those at the top, in leadership roles, that the expectation is to have all the answers, all the knowledge.
This is not humanly possible!
Digging a little bit deeper into the top-down power-model mindset, if you're in a role holding the power and you are expecting yourself to have all the answers you are placing yourself under a phenomenal amount of pressure.
This expectation to have everything down inevitably sets up a stress response in the brain and body. With adrenaline and cortisol (stress hormones) flowing your system is primed in its "fight or flight" reactions.
Humility in this state doesn't even come into it. Your system like this is ready to defend itself! In this stress state the mind will put those defences up in the form of shutting down discussion, becoming focussed on singular objectives without seeing the bigger picture.
It obstructs being receptive or open to genuine feedback by acting in a "defensive" way. The mind is wired to function this way to make sure that what you perceive as a threat is quickly eliminated.
All well and good if the threat is a short-term physical threat, which involves rapid, focussed, snap-decisions and quick, decisive action, like escaping from a flood or some kind of natural occurrence. Not great if it's long-term, involves others and actually ISN'T a threat. It is only a threat if your ego is running the show.
To put it bluntly in her article, Brigette Hyacinth says: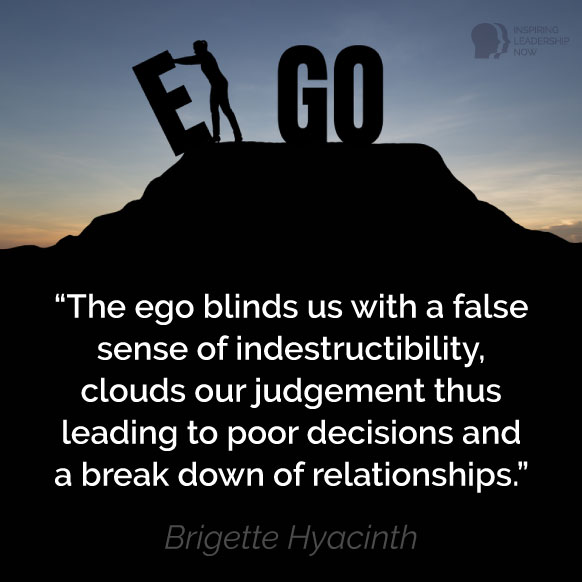 Take that, ego!
The key to getting out of the ego is a shift in perspective. Shifting perspective not only makes life easier for everyone by moving the emphasis away from the drive to dominate, it also serves to help dismantle the top-down power structure that actually isn't an ideal model for effective leadership.
Make that shift away from ego by taking yourself out of the equation. This doesn't mean quitting your job or giving up! This means shifting the emphasis away from yourself, or at least the part of you that is personally identified with your work.
In practical terms this is being real with the fact that you don't have all the answers. It also means that whatever happens – don't take it personally. In real terms it means humility, adopting a humble, receptive approach.
Say you have been working on a project for some time and it has been brought to your attention that there are certain additional aspects that need to be addressed and others that need to be reviewed.
Option one would be to take a defensive position, where you are personally identified with the process and outcomes.
From this position the ego and likely a stress response takes over and the feedback is either crushed or ignored. You plough on regardless leaving the team in a despondent wake behind you.
Not only do you run the risk of losing sight of the bigger picture and potentially jeopardising the outcome of the project, you have also alienated your team and eroded their loyalty in the process.
Option two would be to take a receptive position. Ditch the ego stance of "I know best" or "what I say goes", put aside any personal affronts that your work or integrity is being challenged.
Take a slice of humble pie and LISTEN. Be open – regard the feedback not as criticism or judgement, but simply as information. Use it as data to use, apply and refine your work. The value of listening cannot be overstated. You know what it's like – in any aspect of your life, not just work – if someone takes the time to really listen to and be present with your conversation, you feel valued. Given that the content of your conversation is treated respectfully and given the action it deserves, it creates a foundation of honesty and trust – vital for any relationship to flourish.
It also allows ideas and information to flow freely. It sets up a positive cycle of information and action where there is a constant opportunity for growing and learning.
Brigette again observes that:

"Great leaders recognize that they need to keep learning. Leaders need to be willing to learn and be open to seeking input from both inside and outside their organizations. Feedback allows us and the organization to grow."
The danger of leadership in the option one style, the traditional top-down power-oriented, egotistical approach, is that it breeds a "yes culture."
If you as a leader are surrounding yourself with "yes (wo)men" not only are you actively wearing down your team's morale, you are also more than likely hiring the wrong people for the job.
Neither of which are going to improve the bottom line now, are they?
In the article, What's a Leader to Do When Employees Are Still Disengaged (Despite Best Efforts)? These 3 Things, Scott Mautz brings in the Gallup research to back this up:
"Most people become managers either because they were top individual performers or because they've been around the company a long time. Neither of those two things has ever shown a strong relationship to being a good manager. Companies choose candidates with the right talent for the job only 18 percent of the time."
The ideal manager is a motivator – is engaged and enthusiastic, brand loyal, well trained and suited to the role.
In other words, is willing and able to facilitate others journeys through the company, providing training and opportunity for all.
An effective leader backs and encourages autonomy – doesn't micro-manage. The effective leader dismantles the heavily top-down structure, and the "yes culture" which effectively disempowers and consequently disengages employees and negatively impacts the bottom line.
Where this receptive, effective, option two (see above) style of leadership isn't present there is an additional risk that the workplace becomes toxic.
3. When The Workplace Has Become A Toxic Culture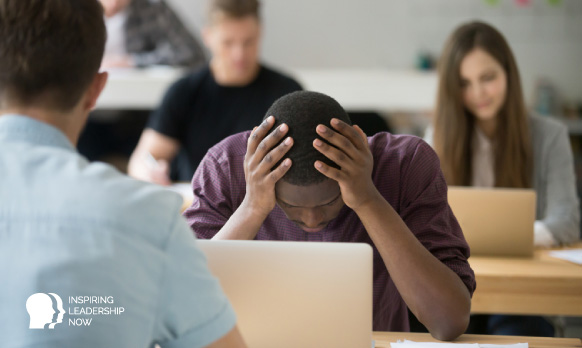 You have probably experienced the toxic workplace culture (and if not count yourself as lucky!) where gossip, unhealthy competition, back stabbing and a lack of communication within and between teams is rife.
Egos butt up with egos on a moment-to-moment basis. You probably feel like you're either in a battle zone or walking on eggshells and being undermined is the norm.
None of this is productive. It highlights a blatant contempt for all individuals involved and sadly has been the way of things for a very long time.
As a result, there is likely to be a whole raft or respect related issues at play. For example, there might be a lack of respect for people's ideas and time – leaders not responding to employees when they ask for feedback.
Not respecting employees downtime by making it known that it's not acceptable to be "offline" for evenings and weekends.
Expecting team members to drop everything whenever management attempts contact. Changing the goal posts all the time so employees are compelled to keep re-doing the same work over and over again. Again, none of this is productive.
On the flip side, as a leader, you can make a difference and effect a positive change. It starts with a focus on your employees as your most important resource. According toBrigette Hyacinth, there's a direct connection between valued working staff and a healthy work environment:
"If you believe, that employees are your most valuable asset, you will create a healthy work atmosphere and provide them with the tools and support to do their jobs effectively."
She suggests 7 practical ways a manager can boost staff morale: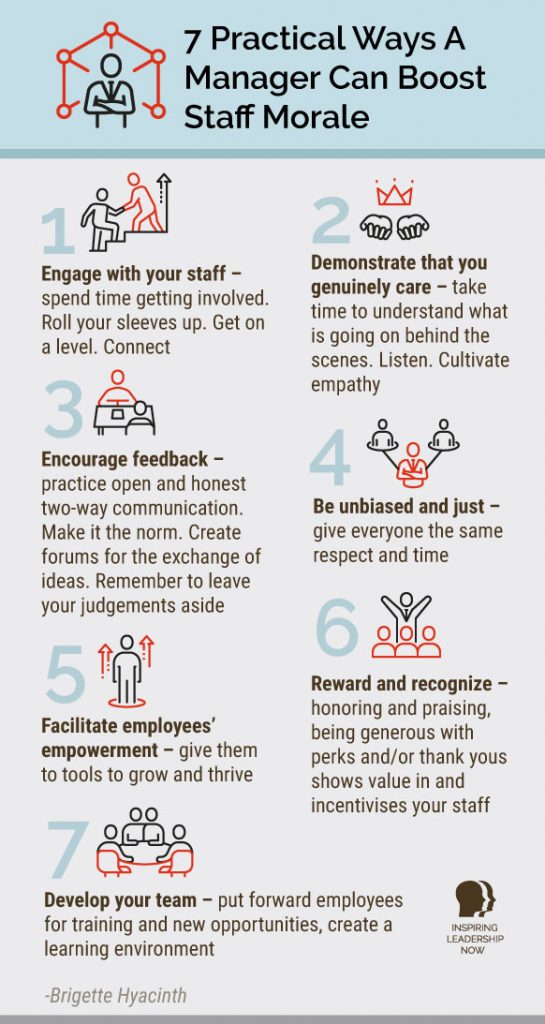 Ultimately, the key to boosting morale and motivating your workforce is through empowerment. To inspire an engaged and self-motivated staff it is worth remembering Scott Geller's four C's that he spells out in his TED talk The Psychology of Self-Motivation.
Here's a brief recap of each of them:
Competence –  inspire confidence by investing in training and development
Consequences – instigate self-motivation by recognition of staff contribution, engage your team so that they are actively contributing to outcomes (both on an individual and collective level) and have the means to do so
Choice – champion autonomy and encourage responsibility. When you have a sense of choice in what you are doing you have a sense of autonomy, of being in control. As a result, you have a willingness to do the task or the job. When you perceive choice you perceive motivation
Community – people who feel a sense of connectedness with others feel more motivated and happier. It's a scientific fact, so use it, have each others' backs. Build and maintain positive, respectful relationships
Go team!
You can learn from others when you have the humility to accept feedback and the courage to speak up.
Maybe that dream of hopping out of bed, feeling optimistic about your day ahead, going through your day with a spring in your step, a sense of inspiration and satisfaction from your work isn't so far out of reach.
Working with an engaged and confident workforce, feeling positive and motivated, generating high team productivity and confidence really is yours for the taking.
Psst! Interested in honing your leadership skills so you too can become a respected and influential leader?
… We've got something special for you!
… The FREE Inspiring Leadership Cards Quote Deck!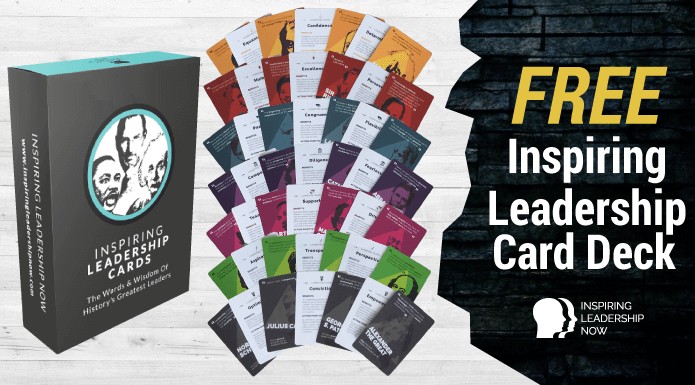 Containing the words and wisdom of history's greatest leaders – these limited edition cards are like having the all-time most influential leaders by your side each day, encouraging you to become a better leader!
Claim Your FREE cards now to receive:
49 powerful Leadership Quotes from the world's greatest leaders, including Steve Jobs, Albert Einstein, Martin Luther King Jr., Oprah Winfrey, Abraham Lincoln and many more so you can harness the wisdom that shaped history
49 winning Leadership Qualities that'll transform you into the kind of leader others respect and feel inspired to follow
49 practical Action Steps you can refer to on a daily basis to enhance your innate ability to inspire – just watch how others naturally gravitate towards you!
But hurry, supplies are limited so don't miss out – grab your Inspiring Leadership Cards now!