Last updated: 26 October 2022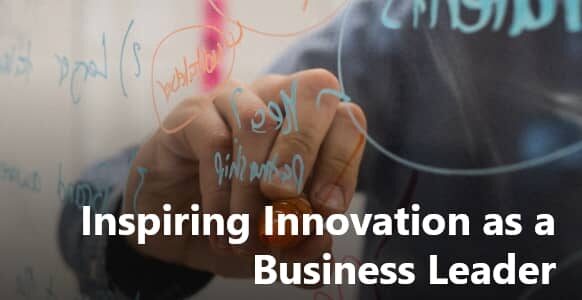 Great business leaders know how to get the most out of their people. Tim Cook is famous for promoting an atmosphere of creativity and innovation as the CEO of Apple. Likewise, Reshma Saujani, former CEO of Girls Who Code, inspired millions of women to start coding and get stuck in with the latest tech innovations.
As a business leader, getting the most out of your employees might seem difficult. But you're in a leadership position for a reason: folks trust you to look out for them and encourage the right kind of creativity in the workplace.
There are plenty of tried and tested methods to help you get the most from your team and inspire innovation in the workplace — you just have to find an approach that works for you!
Leadership is a Skill
Steve Jobs and Bill Gates walk and talk like born business leaders. However, they've spent their entire professional lives working on the soft and hard skills it takes to become an effective leader. Steve Jobs was multilingual and Bill Gates continues to push the boundaries of his technical knowledge. Likewise, both leaders learned to become great communicators and resilient leaders in times of hardship.
Treating leadership as a skill will help you inspire innovation in your workplace. As a leader, you set an example for everyone around you. If you're open and honest about your desire to experiment and try new leadership strategies, you may find that your employees become more open to the idea of innovation, too.
If you are managing a particularly creative team, you may need to invest more time into developing hard skills like project management. By taking care of the logistical needs of your business, you allow the creative folks around you to focus more on innovation and creativity than paperwork and budgets. Just be sure to set clear boundaries for innovation in the workplace, as even the most creative of minds need limits to work within.
Boundaries for Innovation
It may sound odd, but the best innovations usually happen within tight boundaries. Creative minds need problems to solve and laws and rules to abide by. By maintaining tight boundaries for innovation, you'll promote a culture of creativity and problem-solving in the workplace.
The first boundaries you'll need to set to inspire innovation are financial. Everyone can dream up solutions to business-related challenges, but not all solutions make financial sense. A clear, realistic budget that gives folks room to work will ensure that your ventures remain as profitable and creative as possible.
You can also consider removing some real-life boundaries for your employees and asking them to innovate in hypothetical scenarios. For example, if you are a tech company, you might ask your product designers to imagine how your product/service will fit into Web3. This kind of hypothetical thinking requires you to shift boundaries to become more future resilient and ready for a new era of web design.
You need boundaries to stop theft in an innovative workplace. If you're an employer that encourages free thinking and creativity, you are at risk of employee theft. Employee theft is also costly, and completely derails any opportunities for innovation in the workplace.
You can prevent employee theft and protect your inventory, ideas, and innovative spirit by redesigning your workplace with comprehensive security plans and maintaining tight protocols on intellectual property.
Redesigning the Workplace
When you look around your workspace, what do you see? Are employees able to collaborate easily? Do they have access to the materials and resources they need for innovation to occur? Are there enough quiet spaces for employees to think without being interrupted by office gossip?
You may not realize it, but the way you design your workplace has a huge impact on innovation at work. Workspaces that lock folks away in cubicles may promote greater task-related productivity, but you'll miss out on the kinds of conversations necessary for collaborative innovation.
You can inspire greater innovation by creating workspaces that promote productivity. Productivity-oriented workspaces allow folks to knock out their daily tasks efficiently so they have time to think freely. You can promote productivity in your workspace by allowing employees to move around the office while maintaining a clean, clutter-free environment at all times.
Recognition and Rewards
Recognizing and rewarding innovative employees and their accomplishments is key to inspiring innovation as a business leader. If employees don't "get" something in return for their problem-solving, they're unlikely to spend their time on anything other than their day-to-day tasks.
Recognizing innovative employees is simple. Whether you opt for an internal email or an end-of-year award, recognizing an employee who has made a difference in your company's success is deeply motivating and helps folks feel like part of a team.
You can reward innovative employees with a small gift or token of appreciation. Then, keep an eye on the employee, and consider them first when you're considering an internal promotion or raise. This will show that your business is serious about innovation and genuinely cherishes creativity.
Conclusion
Inspiring innovation as a business leader requires you to set clear boundaries and reward workers who take the time to think outside the box. Be sure to create a collaborative, innovation-friendly workspace with plenty of resources and minimal clutter. This will help folks develop the hard and soft skills they need to perform at their very best.