Last updated: 12 October 2021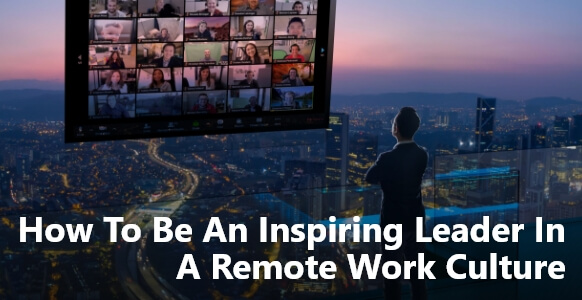 Have you noticed that over the last twelve to eighteen months there has been a huge shift to remote working the world over? It's almost impossible to miss, isn't it! And most organization leaders and managers keep asking the question, "how to be an inspiring leader?" – a very difficult question to address in the midst of this crisis.
Owing to the Coronavirus pandemic, workforces globally have been forced to go remote to protect the health of their people and the health of their organizations.
Remote working as a concept isn't new. What is new is the extent of remote work you see today. In fact, there are many successful companies that have an entirely decentralized workforce, where leadership in remote work culture is a fully integrated part of working life.
Organizations are tapping into the myriad benefits and valuable effects on employees that remote working offers. The pros are well documented, take for example the study cited in Harvard Business Review's article To Raise Productivity, Let More Employees Work from Home .
It details a trial in a Chinese call center where half the team were given the opportunity to work remotely for nine months and found that the non-office-based workers were less likely to quit, happier, and more productive over the course of the study.
The benefits go much further, for example, the article Costs and Benefits on include these advantages of a remotely-based workforce:
Increased collaboration
Increased employee satisfaction
Increased productivity
Expanded talent pool
Reduced unnecessary meetings
Reduced employer expenditure
What's not to love?
However, you know it's not always all peachy in the remote working world.
Tech giant IBM, for example, found it was difficult to utilize the company's shared practices and beliefs to glue together a remote workforce without person-to-person rapport and mutual experiences when it sent forty percent of its workforce to work from home in 2008. (This was phased out eight years later, when it brought its people back into the office.)
According to Forbes, some of the challenges in remote work, in addition to the lack of face to face supervision, are:
Social isolation
Lack of access to information
Distractions at home
As a leader, manager, entrepreneur, or aspiring start-up, you are likely to be looking at, or already doing the majority of your leadership in remote work culture.
And while this offers great benefits to team engagement and productivity, it can be hard-won to unite your people in the face of remote-work challenges.
Especially if your background in leadership is office-based– offering inspiring leadership in a remote work culture comes with its own unique set of challenges.
With these challenges of leadership in remote work culture, how do you create an environment of positive behavior and inspiring company culture when your shared environment is virtual?
Read on and let ILN be your go-to on creating a sustainable, positive, inclusive, and productive remote work culture in the paradigm shift brought by the pandemic.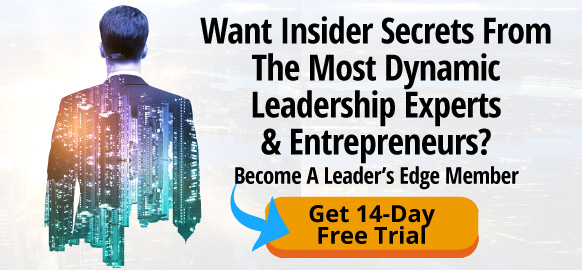 What are the Unique Challenges of Leadership in a Remote Work Culture?
The transition from office-based to remote working is a challenge because in the absence of a communal work space (traditionally the office) there is a complete shift in how to connect with, and lead your team.
In a face-to-face environment the values, beliefs and practices that form the foundation of your organisation are widely adopted as a shared experience – in the way everyone (in general) does things for example. It forms the general ethos of the place you might say.
But, if you remove that shared experience (as in a remote setting where all your people are disparate) some of those values, beliefs and practices can start to evaporate.
Those shared experiences of your company's values, be they respect, inclusion, enterprise, vision, – whatever they are, the list is endless – form your organisation's culture. It is this culture and these experiences in it, and of it, that is the glue that sticks your people together.
To break it down a little further: work culture is defined by the way your people make decisions and how they work together. These actions come to define your business' corporate habits.
The importance of having a well-established corporate culture and strong, positive, corporate habits is that it supports your people's sense of belonging. More than that, it bolsters creativity, problem-solving, boosts collaboration, and increases understanding.
Leadership in a remote work culture is a challenge because the lack of human in-office interaction means less of all those things.
According to Jennifer Howard Grenville in How to Sustain Your Organization's Culture When Everyone is Remote, people understand and collaborate with each other better when they share nonverbal communication (body language) and common experiences.
Your challenge when leading in a remote setting is to bridge that gap in communication and interaction to create a work culture of collaboration, engagement and understanding that doesn't depend upon a set of walls within a building to sustain it.
The two main factors in successful leadership in a remote work culture are: leading from your values and communication.
Let's look at both in turn and how you can embody your values to inspire a positive work culture: engagement, inclusion and wellbeing in all your people.
What Values Does an Inspiring Remote Leader Bring in a Remote Work Culture?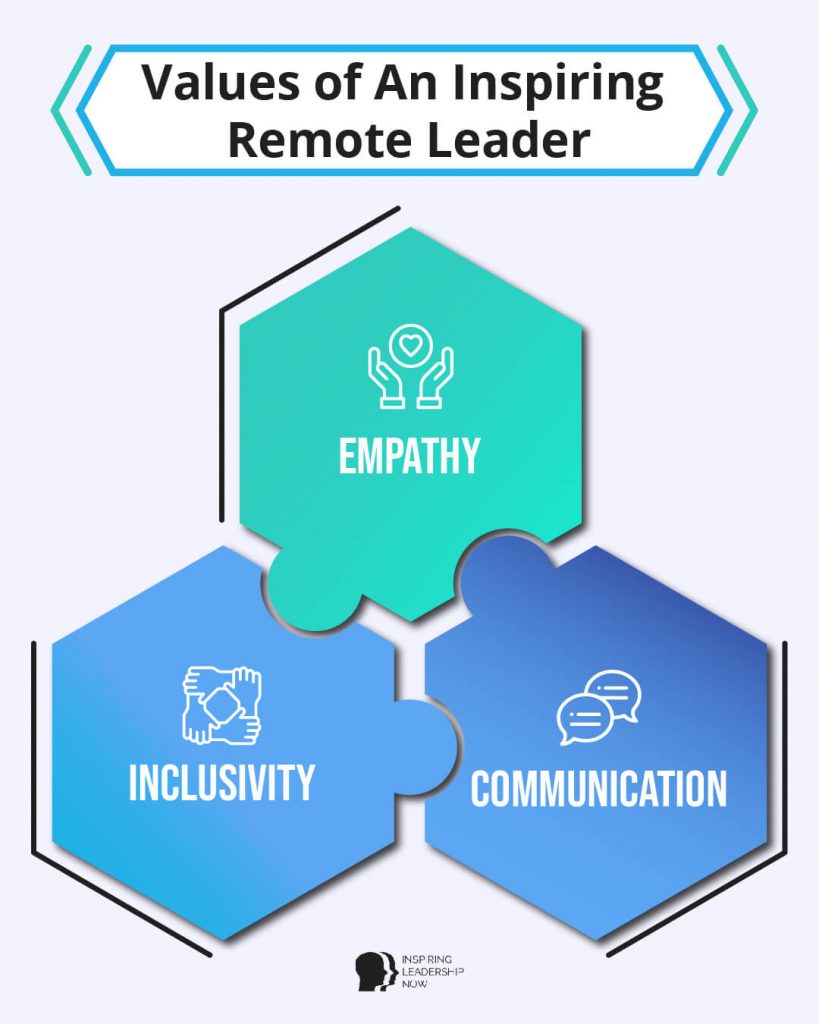 Aside from your company's ideals, there are some key values that you, personally, can bring and embody to glue your people together and inspire them in a distributed work model. These are empathy, inclusivity, and communication.
Empathy
This is the much-discussed and well-publicized quality of being able to understand another, to put yourself in their shoes with care and compassion.
Being empathic is a key quality and part of an emotionally intelligent style of leadership.
According to Brent Gleeson in Forbes, research on emotional intelligence shows that team members look to their leaders for cues on how to react to sudden changes or crises.
He says "calm is contagious." And so is panic, so "chill out"! Kindness (empathy) is also contagious, so be kind.
Inclusivity
This is not merely an HR exercise. Genuine inclusivity means taking time to learn about everybody, it means respectfully including your people and including yourself.
Regular, daily check-ins for some all-important one-to-one time, and all-hands informal video hangouts where everyone gets a chance to speak and to be heard are vital.
Communication
No matter what you do, if your communication is off, your culture and values just won't stick. Take advantage of technology.
Google Hangouts, Zoom, and Microsoft Teams are great pieces of software for video conferencing. Slack is a popular web and desktop chat tool. Combining these is a great way to support engagement strategies.
Bringing these values to the metaphorical table means empowering yourself to inspire and empower your team.
Why not use these rapidly changing times to reiterate what is important about your company? For example, MIT's development of radar technology during the Second World War founded an "interdisciplinary, collaborative culture", says Jennifer Howard Grenville.
Tapping into the spirit of those values would help to propel and sustain such an organization's community of workers through a global pandemic.
So here's how to tap into your company's ideals, as well as leading from the above core values:
How to Embody Inspiring Leadership Values in a Remote Work Culture
Exhibit Empathy
Listen to personal concerns
In the context of an abrupt change, it is vital for managers and leaders to acknowledge the concern and listen to their teams' anxieties and empathize with any struggles.
Changes involving decentralization that occur very quickly can be difficult to sustain, because of the rapidity of their implementation. As an antidote to this, J. Howard Grenville advises aligning those changes with your company's culture to keep them effective. If empathy is a value, be empathic, and more so in times of change.
Be a mentor more than a manager
Use your coaching and mentoring skills to shift your focus from managing through power and micro-management to leading through empowerment. Despite being in a changing and volatile set of circumstances there is always scope to keep developing yourself and your team, says Gleeson. If this involves outside sources and new initiatives, get to it!
Be flexible
Understand that each and every one of your team will have a different set of working at home circumstances, and no two are the same. Some will have children, some will be working from the bathroom, some will be in a coffee shop, some will be having a tough time in their relationship. It is your role, as their leader, to understand the unique set of circumstances that all of your team face and to empathise and work with that to allow them to be their best.
Be inclusive
Refer to current social movements and/or changes to reinforce a culture of inclusion. Even if this means having difficult conversations. In the wake of socio-political events, such as the death of Floyd George, it is vital that any responses have space for acknowledgement.
For further reading on talking about race and creating inclusivity in the workplace see the ILN article What is Inclusive Leadership?: What it Means Today.
Encourage remote social interactions, not just virtual happy hour, or pizza Friday, or even your own version of MTV Cribs, but why not less contrived – as part of an already scheduled meeting? Gleeson in Forbes recommends not to overdo the mandate with happy hours galore, for example, but as a part of your interactive, video meets. He adds that remote social interaction works – it is part of best practice for those who have led remote teams for long stretches of time. Make time regularly for an all group, fun-focussed interaction.
Include the personal
Have a chat channel which functions as your water cooler. In other words, set up a channel where non-work chat can occur, a virtual water cooler! Slack is a web and desktop piece of software that can be used for your team, and you, to cast about who's watching what on Netflix, and what's happening with your favourite teams.
Have a respectful chat
This covers two areas, firstly, talk to your people as adults; it can be easy to fall into "teacher mode" when addressing subordinates and yet, you know because if you have been on the receiving end of this kind of chat, it doesn't inspire respect because it in itself doesn't feel respectful.
So, if your inner teacher starts up, make a switch and instead, talk to your team as adults, as equals. T
he second is to work proactively to phase out elements such as behaviours and actions that don't hold with your company's values – such as non-respectful chat. An example of this is "Bro' talk", or any chat that has an "us and them" flavour.
Encourage an environment of open communication
By keeping communication channels open. Reduce red tape or other obstacles that could keep employees quiet or otherwise excluded.
Adopt a laid-back yet proactive approach to chat and keeping in touch, especially when it comes to sharing ideas and constructive feedback.
Reiterate this by being communicative and open to feedback yourself, as well as encouraging it in your people.
Communicate
Set your rules of engagement regarding communication methods
Define which method to use for what task. For example, you might use email for legal business, video conferencing for daily check-ins and slack for colleague interaction. Different channels are appropriate for different things.
Let your people know what times of the day are best to reach you, and vice-versa. Make sure that coworkers are sharing information. Ensure that everyone knows the rules so you can all play the game, and play it well.
Prioritize outcome overactivity
This is a best practice to empower your employees and for increasing engagement. It involves no micromanaging! Clearly set goals and desired outcomes then allow your employees with the skills and training necessary to come up with an action plan.
Their involvement will enhance their sense of ownership of the project and develop a creative, collaborative approach in your team.
Have an 'always-on' policy regarding chat software with clear boundaries
Even if you are away from your desk they will know that you will pick it up when you are back and in work mode. Be mindful, and do not ask others to work around the clock, and do not do the same yourself.
This is a sure-fire way to generate a sense of contempt at best, exhaustion and burnout at worst.
Be clear on and respectful of work-time and down-time.
Meet face to fact when possible
If this isn't viable physically, do it digitally. Video conferencing has become super sophisticated to enable breakout chats as you would in an office environment with breakout rooms.
The massive advantage of face to face interactions is that your team gets to see and recognise each other; you get to see them and they get to see you.
Human beings are hardwired, social creatures that, generally speaking, lead with a visual sense. Being able to see one another gives a sense of belonging and inclusion.
None of you, and none of your team are just a name, or an email address. Video meetings involving social interaction put faces to names and really work to build rapport, collaboration, motivation and productivity.
How To Be An Inspiring Leader: Major Takeaways
Learning how to be an inspiring leader in a remote work culture comes with its own unique set of challenges, the most fundamental being to bridge the gap in communication and interaction in the absence of an office environment. This is challenging, but not impossible.
The two primary factors in successful remote leadership are leading from your values and communication.
Your role is to inspire your people by creating a remote work culture based on empathy, inclusion and communication.
You can do this by embodying these values; this in itself opens up a virtual space for interaction between your people.
Regular, empathic and inclusive communications will lead to a far greater team engagement, not to mention all of the inspiration and motivation that comes from bouncing ideas around, hearing other's ideas and having some (non-work) water-cooler chat time.
The result is a unified team with a sense of belonging and supportive understanding, collaboration and empowerment: a team that is both remote and also inspired – and led by you.