Last updated: 3 January 2023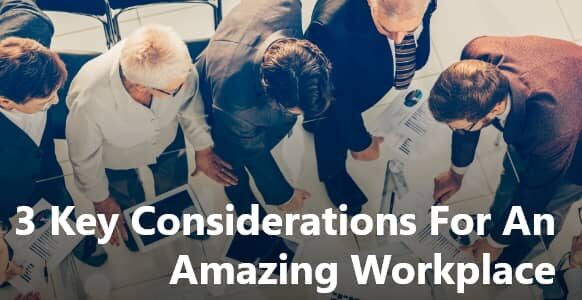 Last year has been marked by a strong job market in many regions, which is good for economies and employees, but more challenging for companies wishing to employ and retain great quality staff.
Recruitment and retention become ever more crucial in a market such as this, resulting in ever more competitive ways of attracting and retaining staff. Pay will always be important, yet it is no longer the main attraction to employees, who increasingly seek alternative benefits from their employer.
One such perceived benefit is their workplace being a great place to be. With that in mind, what are the magic ingredients of a great workplace?
It is a place with a strong culture of caring
Employees want to feel that they belong in a place of work, and belonging comes from employers actually caring about those same staff. Nobody wants to feel as if they are a number, which is saying they are insignificant: people need more meaning than that in their place of work.
So what does a strong culture of caring look like? Effective leadership is one aspect, but that follows as a separate point. Caring is also about having effective rewards systems recognizing good work, yet at the same time employing generous and flexible work-life balance practices which acknowledge that those same employees have lives which exist outside of work. An employee with an unhappy work-life balance is rarely as productive as one who has.
Additionally, promote the ethos of the company, and make it more than just about the bottom line: people rarely if ever respond to the motivation of solely lining another person's pocket, so what is the job really about?
"Caring is a two-way street. Not only must a company care about the employees, but the employees must ultimately care about the company. It is the former that inspires the latter," states Casey Bledstone, an HR Manager at Assignment Help and UKWritings.
It is a place with great leadership
Great leadership is intrinsically linked to a caring culture. After all, who is it that really needs to display that caring nature other than those leaders who employ and manage the staff? Yet great leadership is much more than just showing you care: it is about effective communication, the strength of guidance, and positive validation.
Communication is essential, as good leaders realize the folly of keeping staff in the dark. There is no quicker way of alienating an employee than failing to inform them of what is actually happening around them, or why they are doing what they are doing. And those same leaders understand that communication is always a two-way thing, so they listen as well as talk.
Guidance means rising to the mantle of a good role model, and one who walks the walk as well as talking the talk. This also means facilitating the employees' growth in the job through identifying and delivering training needs, to providing effective mentoring where possible.
And positive validation is really just an extension of good communication. It is about recognizing hard and effective work, and not pouncing on every perceived mistake.
It is a place with a great physical environment
We spend an incredible proportion of our time in our workspace: that is a fact. Nobody, therefore, wants to spend the majority of their conscious hours in an uncomfortable and neglected environment which fails on every level to accommodate those very people who spend the majority of their day inside it.
So what does a great physical environment look and feel like? Well, comfort is a major aspect, so it must be adequately heated/cooled and lighted. Lighting is an often neglected feature, and can lead to all manner of health problems if inadequate, or indeed, overbearing. The space must also be sufficiently spacious, as nobody enjoys the sensation of being cramped and spatially violated.
The current trend is a shift towards active workspaces, which basically involves an environment which encourages and facilitates movement.
"This can be achieved by utilizing adaptable partitions which can increase and decrease spaces according to the number of people involved in a particular activity, standing desks and support stools, and even outside spaces which can be used for meetings and other activities," argues Diane Travers, a senior project manager at OXEssays and Top essay writing services UK.
A gym and on-location café are other means to facilitate an active and healthy space, which is really the crux of the matter. Employees are seeking a healthy environment, both physically and mentally, and will not tolerate a space that fails to deliver on one or both of these requirements. A healthy, comfortable and adaptable workspace truly elevates the performance of employees, and is an investment worth making.
Seeking continuous feedback from staff regarding their physical workspace is such a simple yet overlooked practice. It's common sense to ask people what they want, and has the second advantage of empowering employees in the decision-making process.
Guest Author:
Specialist email marketer Jenny Han is also a major contributor to Lia Help and Pay For Assignment. When she isn't developing effective marketing approaches and executing successful campaigns, she turns her attention to the editing and proofing of all company literature, and she also enjoys blogging on these topics at Essay writing service review.