Last updated: 5 February 2020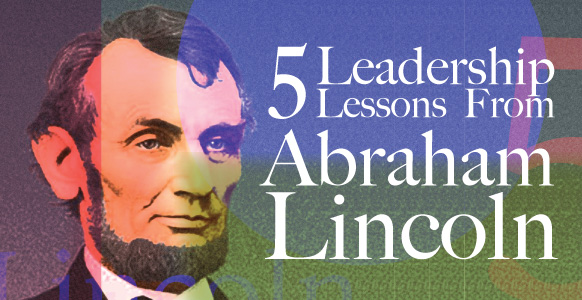 Abraham Lincoln's notoriety as a historical figure is legendary.
There isn't a shortage of books, articles and research papers on his style and leadership lessons.
But he did possess a particular quality that you might not have read so much about: balance.
You see, Lincoln is famed for successfully navigating an exceedingly turbulent time in American history.
Forging a way through bitter civil war, he brought about vast social and political change in the official document pronouncing the end of slavery.
To achieve this feat in such socially and politically tumultuous times took phenomenal skill, ingenuity and focus.
What's more, he was able to balance almost opposing qualities in equal measure throughout his journey as president. Some of these qualities included:
Resilience balanced with empathy
Confidence balanced with humility
Persistence balanced with patience
Ambition balanced with serenity
Action balanced with stillness
All these qualities (and more) infused his presidential journey with drive and composure.
So let's have a look at how you can bring on some "Abe-inspired" balance and leadership artistry.
1. Balance Agreement With Opposition – Ditch The "Yes Men"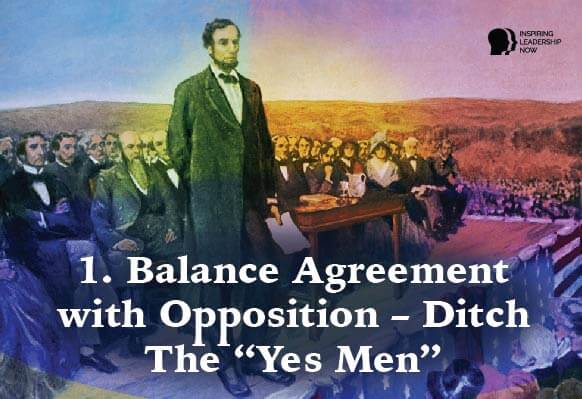 When Abraham Lincoln won the presidency, he had run as a total outsider. His victory on paper was unexpected.
He was not a lawyer and his political career had not been (as yet) successful: having previously run for senate twice and lost twice before finally winning a seat in congress.
His win was unprecedented.
Understanding the gravity of the civil unrest he faced as leader, Lincoln looked at the bigger picture and choose to appoint each of the 3 rivals he beat in the running as members of his cabinet.
These were his 3 closest political rivals. They were experienced and well-decorated as political leaders in their own rights. They were his opponents. His peers thought it was madness.
However, Lincoln recognized that their strengths combined were far greater than one leader presiding over a team of "yes men."
He actively recruited individuals who had opposing views to his, seeking opposition as a counter balance to his own views. Knowing that their conflicting vantage points would challenge his own, he took an opportunity to gain a wider understanding by learning from their perspective.
Ultimately, he appreciated that to have their combined political ability by his side, would be for the good of the country.
It might also have occurred to him that to have them on his side as allies was an advantage to having them on the other side as enemies.
In the words of Lyndon Johnson:
Better to have your enemies inside the tent
p*ssing out, than outside the tent p*ssing in.
In other words, it's better to have your enemies making trouble inside your camp than raining it down on you directly!
Taking this metaphor further: what Lincoln does to keep the balance is embrace trouble.
The Lesson? Embrace Trouble
"Trouble" has a negative connotation. Yet in business it is the gateway for getting from where you are to where you want to be.
The trick is to treat trouble as an ally. It is always in the mix so you may as well use it to you advantage!
Mark Modesti in his TED Talk, The Argument For Trouble, refers to those who take trouble and turn it to their advantage as "builders" and those who wait for trouble or try to avoid trouble, as "fixers."
The aim is to be the builder and like Lincoln, focus on the bigger picture – don't expend unnecessary energy on trying to fix little fires.
In his talk, Mark uses the demise of Blockbuster Video as a current example of embracing trouble as an opportunity for growth.
When faced with the prospect of video becoming obsolete as digital steaming gained popularity, a "trouble-facing" CEO was asked to leave.
Why?
He was pushing to steer the failing company towards being an online video-streaming platform. The company got rid of the troublemaker believing it to be too much trouble to shift the focus of the business from analogue to digital.
The perceived "trouble" here would have been the disruption of delivering its product in a digital form. What an opportunity!
Instead, Blockbuster favoured the trouble of managing the administrative pain of displacement – laying-off staff. They chose the "fixer" mode of patching-up the beleaguered and failing business.
Without embracing the "builder" mode and looking at the wider picture with a focus on embracing the change to digital, the company lost out – big time.
Lincoln was the constant "builder": always balancing his opinion with the contending views of others. And turning towards trouble to consistently use it to the advantage of the nation.
The lesson here?
Make like Abe and get ahead with a balanced approach to embrace trouble or change. This includes working with people who might have strong and different perspectives to yours.
2. Balance Confidence With Humility – Galvanise Your Adversaries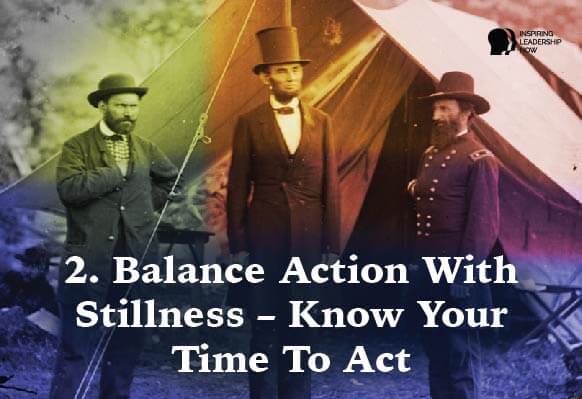 Now that Lincoln had his adversaries in place the next step for him was to galvanize their prowess: to bring them together to harness their power.
How did he do this?
He fostered confidence and trust. Not only with his fellow politicians, but also with the citizens of the country.
Fundamental to creating trust is effective communication. Lincoln was famed for his humble approach, for using clear and everyday language and for telling enchanting and humorous stories wherever he went.
You might think that he was well educated to have had such an effortless command of language and diction. When in fact, the reverse is true.
He wasn't highly schooled, in fact he was an autodidact (self taught) and this teaching came from a wide array of books that he read voraciously as a child, with a particular and lifelong love of Shakespeare.
In his adulthood and his famed communication, it was as if the words and diction in the books he had devoured as a child had become a part of him.
His humility and ease of communication allowed him to win confidence, loyalty and allegiance in political circles and also inspire the loyalty of soldiers and citizens that were embroiled in a bloody civil war.
He changed the mind of many from pro-slavery to actively fighting for the emancipation cause. Many men even tucked a photo-portrait of him into a pocket when going into battle, such was their allegiance.
The Lesson? Be Real
His entertaining and winding stories galvanized and enthralled listeners and diffused many a political impasse, even saying that a good story for him was preferable to a drop of whiskey.
Additionally, it made him accessible and human, approachable and real.
He crafted a form of play in his manner, balancing humor and seriousness, which carried him through challenging and difficult times.
The Emancipation Proclamation was hotly contended within Lincoln's cabinet and countrywide, the issue was seriously divisive and threatened to tear apart the nation.
With great patience, Lincoln listened with humility to all the voices of the cabinet. With great confidence and trust in his own convictions, he took the decision to push the bill through and make it law, knowing that:
"If slavery is not wrong, nothing is wrong."
He upheld this view amidst a multitude of strong, oppositional opinions. A fundamental component of inspiring trust in others is to have genuine conviction and trust in your own decisions.
By balancing confidence and humility Lincoln acknowledged his cabinet's contention to the abolition.
Yet the self-trust he had enabled him to draw discussion confidently to a close while all the time having the humility to acknowledge differences in opinion.
3. Balance Action With Stillness – Know Your Time To Act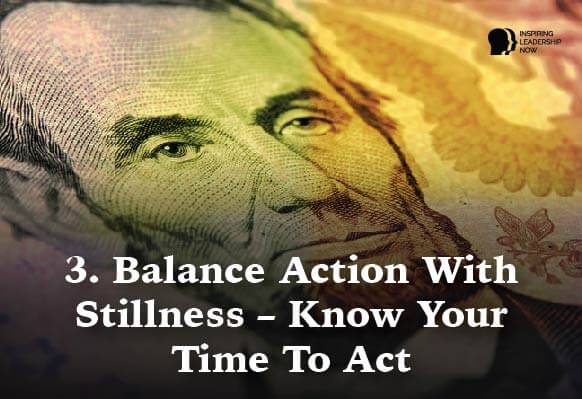 The driving force behind Lincoln's Presidency was his ambition to make the world a better place.
This finds its roots in losses he suffered in his early life. His mother died when he was just 9 years old, his sister died in childbirth, and his first sweetheart died aged 22.
He found consolation in the notion that accomplishment and honor will outlive your earthly being.
This carried him through the difficult and depressing times of further personal loss. He broke off his engagement with his fiancée Mary Todd, being uncertain he wanted to marry. He also suffered political defeat in his early career, losing traction in the State Legislature.
Depressed and almost suicidal, he was encouraged by his closest friend to rally his spirits and from this place take positive action – to create a legacy in his life for the betterment of all.
He knew that it was his time to act and create a life worth living.
"Most people are about as happy as they make their minds up to be." – Abraham Lincoln
The Lesson? Choose Your Moment
His skill of balancing action with stillness carried through his career. An absolutely seminal moment came in 1863 when the Emancipation Proclamation was due to be signed.
Lincoln picked up his quill and noticed his hand was numb and unsteady from having shaken over a thousand hands at a New Year's reception that day.
Knowing the importance of this action he took a moment to consider and chose stillness.
Rather than going ahead, signing this pivotal document in a way that could be misconstrued as having being signed in an uncertain and hesitant fashion, he waited.
Even though he recognized the scale and importance of the decree and the drive he had behind it, he waited.
Stillness.
And then, action: recovered, he signed the document with a steady and clear hand.
4. Balance Work With Play – Make Time Not To Sweat The Big Stuff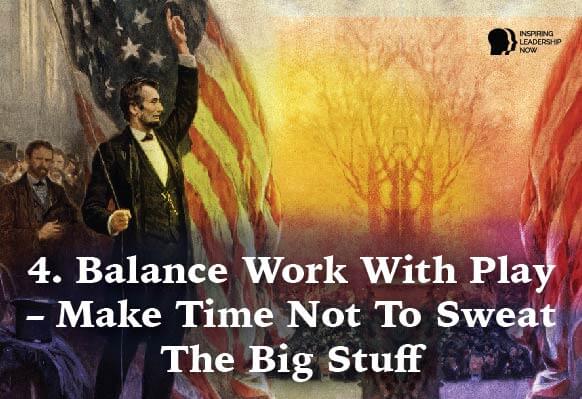 Lincoln is renowned not only for his sense of humor and his storytelling, but also his love of quoting Shakespeare and his regular visits to the theatre.
Even in the most politically challenging times, he found balance in work and play, balancing pleasure with persistence.
Relaxation and replenishment are vital counter balances to accomplishment and achievement, and Lincoln knew it.
His lifelong love of Shakespeare took him to the theatre over one hundred times even during the darkest days of the war.
He recognized the benefit of taking time out and surrendering to enjoyment. His love of humor is legendary and is famed for saying that it is better to laugh rather than cry.
Further to this, Lincoln made time to get to know his team as leisure time, spending long evenings talking with his fellow politicians in front of the fire, visiting cabinets members and their families for supper, taking carriage rides through the park, all to have time out together.
The Lesson? Take Time Out & Get To Know Your Staff
Take time out to enjoy life and take pleasure for the sake of pleasure. Easy in theory but sometimes it's easy to overlook.
Balancing team contact in both work time and as time-out gives you a golden opportunity to build solid relationships with your key players.
You get to know and realize values and strengths that might have otherwise been easily overlooked. You get to feel good by relaxing and you get to cement loyalty by strengthening relationships.
It is widely documented that taking the focus off work by increasing pleasure and leisure time lowers stress levels and as a result actually boosts work related performance.
5. Be The Example – Balance Ambition With Serenity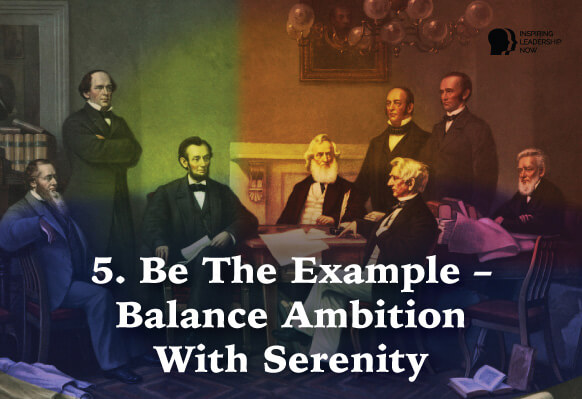 Lincoln was ambitious and driven – his legacy of political and social change is testament to that.
As you now know, his skill in uniting his team while respecting their differences of opinion was crucial to his achievements.
It takes a great strength of character to balance ambition (your drive and focus on the wider picture) with serenity (ensuring space and respect for opposite opinions).
So, how did he do this?
By being the example of emotional intelligence and moral fibre.
Lincoln modeled humility, compassion and self-awareness in his standard of decorum – how he conducted himself and treated others.
He is the ultimate role model of emotionally intelligent leadership.
He listened – respecting that there was space for differing points of view and he took time to listen to all corners and angles of each argument.
He was empathetic: he took time to understand. Putting himself in someone else's shoes, feeling what it might be like from another's standpoint or experience.
(Hint: When you do this, it stands you in great stead because team members who feel heard and understood feel valued and remain loyal.)
He was gracious and offered praise where praise was due, in his own words:
"Everyone likes a compliment."
He took total responsibility – constantly acknowledged his errors, learned from his mistakes and assigned zero blame for the mistakes of others.
Lincoln was famed for taking responsibility for gaffes that his team made.
The Lesson? Keep Your Cool
Bring your integrity and moral fibre to the table: insist and model a no back stabbing, no-blame policy. No negative chat. Behind the back type chat and blame assignation severely undermines trust and destroys the relationships within your team.
Recognize the potency of positive reinforcement. Take time to recognize and celebrate the effort and achievement that your team make.
Practice being fully present when your colleagues are talking by being absolutely focussed on the matter at hand (not checking emails or going over your own workload in your head while they are sharing!).
It takes great strength at times to keep the wider focus, to keep the drive and ambition in mind and to model the no-blame culture, to be the serenity. Of course there is room for fair feedback and constructive criticism, this is very different to allowing members of your team to take the fall or presenting a disunited front.
Sometimes that place of serenity seems like a far off dream, especially when someone or something has got you particularly fired up. At times like this, bring your balance back to cool by drafting what Lincoln called a "hot letter."
When Lincoln was infuriated by a colleague he would fire off a letter noting all the things he wanted to say which, crucially, is never sent and not signed. Historians have uncovered a stack of these.
Next time you find yourself feeling angry or frustrated bust out a hot letter. Don't send it! Use this as a cathartic process to express your feelings on a notepad and then bin it.
By writing exactly what you want to say (including the things you shouldn't) allows you to release all pent up frustration and anger, enabling you to restore your balance, back to calm and serenity.
And finally:
So make like Abe: unite and conquer! Harness and use balance to unite your team and achieve your goals for the good of you all.