Last updated: 16 January 2021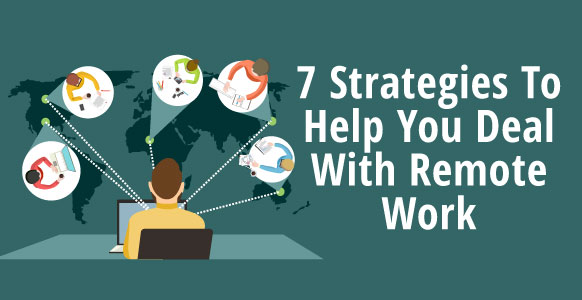 The lasting effects of last year's pandemic has seen many businesses and individuals shifting to remote work. You and your team might be working remotely as a direct result. Working from home (WFH) might have sounded like an attractive prospect– in your sweats, making endless coffees, checking your social media as often as you like. Yet the reality is a little different! If your WFH home situation isn't all peaceful productivity (in pyjamas) and you could use a little inspiration, read on. These seven practical strategies to deal with remote work in 2021 are specifically for you.
As you know, remote work comes with its own trials and is proving to be extra challenging for many. Alongside the health protocols of social distancing, there are also the daily realities of being stuck at home, often with other WFH'ers, family members and pets. 
There is also the realignment of company SOP's (Standard Operating Procedures) to factor in, and all the new tech that goes with it. There is a myriad of new processes, systems, and software to master. Add to this the complete step-change of working alone and you have quite a combo of factors to contend with. 
7 Strategies To Help Remote Leaders and Workers Deal With The Challenges of Remote Work 
Remote working as a trend is set to continue while public health is still a consideration. Until vaccines reach full development, effectivity and roll-out there is still a widespread state of health and economic uncertainty. 
Indeed, some countries (as of writing) have not yet defined targets to eliminate the virus. Economies are subject to the recession, or just starting to show signs of growth in early 2021. 
In other words, WFH is here to stay for the foreseeable future. Even when social distancing orders are relaxed remote work is set to continue for many. 
According to Kitty Webb in her Hubstaff article, 87% of companies now report that their employees would be interested in WFH after the cessation of the pandemic. 
So, get on board! Here are those vital strategies to deal with remote work.
Strategy 1: Communication is King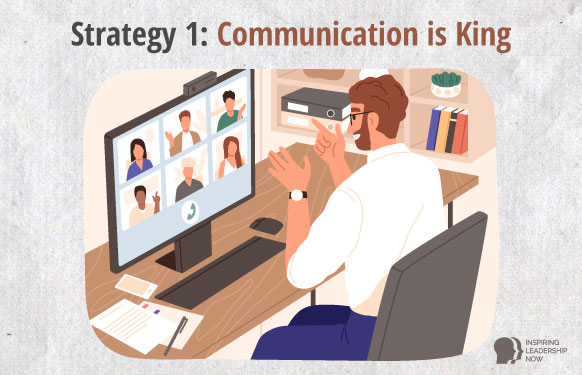 Communication is key to any productive relationship, working or otherwise. It is even more important in a remote working set-up. The conversation, camaraderie and spontaneity that naturally occurs in a group dynamic is missing. 
Communication gaps appear, or it can become fragmented. Because of this it can feel like you're missing out. Or, that you're not getting the full picture, says Kate Ashford in The Muse article Working Remotely? How to Defeat Tech Breakdowns, Office FOMO, and Other Common Challenges. 
To counter-act this communication fragmentation Ashford suggests utilizing messaging platforms for quick connects, such as Slack. Where in an office you'd ask a simple question for a rapid yes/no answer, this is the digital equivalent. Everyone on Slack can connect in real time about issues that pop up. Boost connectivity and communication will follow.
Additionally, she says, make use of video calls. Although you are still remote, seeing the person you're talking to in real time helps to feel connected. 
It's not surprising given that just 7% of communication is the words you use, 38% is voice tone, and a whopping 55% is your body language. 
So when you are communicating via text alone, 93% of communication is lost. Schedule one-on-one video calls with your boss or your team members at the end of the week to have an informal catch up. Bridge the gap and keep connected.
Strategy 2: Establish A Daily Routine That Works For You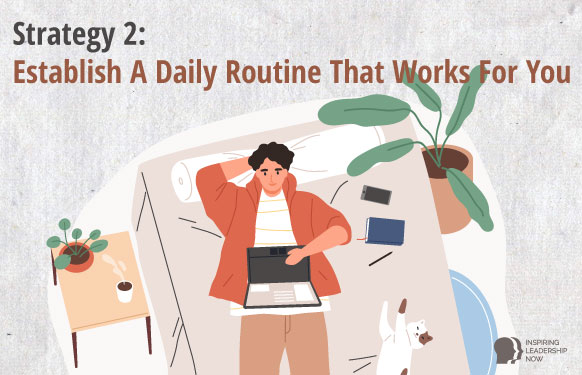 Amongst the best strategies to deal with remote work is to establish a daily routine that is supportive for your productive output. 
By building structure into your day, you are giving yourself a sense of purpose says Webb in Hubstaff. Not only that, a solid routine offers you structure for proactivity. So, you spend more time being productive and less time wondering what you're missing.
When you're working from home, organise your day as if you were actually travelling into your workplace, writes Webb. Start your day at the same time. 
Consider taking a walk or some micro-exercise type activity to kick off with. A couple of runs up and down the stairs, a lap around the block, or some push-ups for example.
Take a lunch break, every day. If you get consumed by what you are doing and tend to forget lunch or skip breaks, set reminders and take intentional time away from your work space. 
Likewise with your afternoon coffee break. Schedule it in, and even better schedule a coffee-and-catch-up call with a coworker. 
>> Related article:How To Be An Incredible Remote Leader: 10 Ways To Build Trust, Support & Get Shared Results
Strategy 3: Get Your Daily Exercise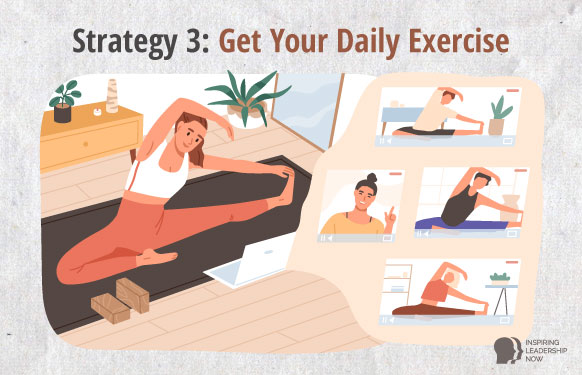 One of the effects of remote working, reports Webb, is "remoteliness". This she defines as the loneliness you can experience as a result of working remotely. 
According to a 2020 study, she says, 20% of remote workers report that loneliness is one of their biggest struggles.
As well as getting and staying connected with your team (see the first strategy on communication), aim to boost your natural feel-good-factor by building some exercise into your daily routine. 
There are myriad benefits to exercise, it improves sleep, regulates blood pressure, improves circulation and is beneficial for all round health. This includes mental health– something you should pay attention to as you deal with remote work in 2021.  
Exercise releases happy hormones such as endorphins, and it improves the analytical functions of the brain by lowering your body's stress response. 
If you're down with your daily exercise regimen, go you, keep it up! If, however, all your good intentions to get fit while working from home have taken a back seat, don't stress! Try to incorporate micro bursts of activity into your day, suggests Webb. 
For example, invest in a standing desk to work at. Consider setting a reminder to do a few minutes of burpees or star-jumps in between meetings or tasks. Or, take it up a notch by adding a group exercise class for you and your team to utilize, as part of your regular workflow.
By making exercise a part of your daily routine you'll be far more likely to keep it up in your remote work in 2021 and beyond.
Strategy 4: Time Management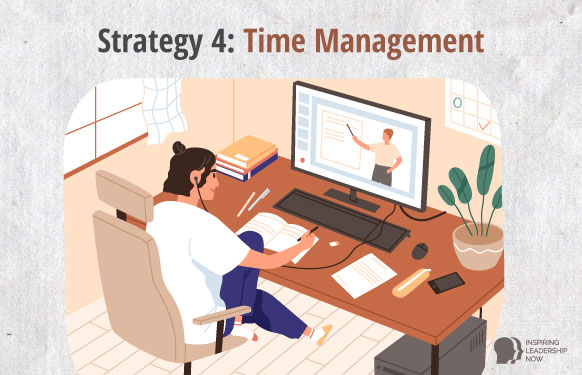 Managing your time is crucial in a remote work setup. For a more in-depth, practical guide to essential time management skills take a look at our recent article 7 Essential Time Management Secrets.
The thing is with WFH, is that work-life balance can become compromised simply because the boundaries between the two can become blurred. You might find yourself stuck in front of your screen for longer than you'd planned. Or checking emails at 9 pm. 
This can sometimes be necessary, when closing a deal or finishing an important project for example. However, if done habitually it erodes your "you" time. And therefore it impinges on your work-life balance, which can have dire consequences for your health by leading to burnout and other conditions besides as you go through your daily remote work in 2021.
So, the solutions: first of all, know when to log off – and do it. If logging off when you're meant to is a challenge for you, ask a friend or coworker to call you at an allotted time.  Have them check in to make sure you're unplugged, suggests Webb.
Or, as in the Remote Year article, 8 Remote Working Tips For Beginners, why not make use of time tracking software such as Time Camp or Toggl to track how you are using your time as you work? 
Pay attention to your working patterns. What do you do when you have a big deadline fast approaching? Hours-long Facebook-fest? (No judgment! It's natural to want to avoid the things that cause stress.) 
Start to become aware of how you use your time– that's one of the key goals to keep in mind when you try to keep a routine for your remote work in 2021. 
By becoming aware of your working habits gives you the option to make choices about how, and in what, you invest your precious time. It's as simple as YouTube versus you being productive!
Strategy 5: Get Creative – In and Out of Work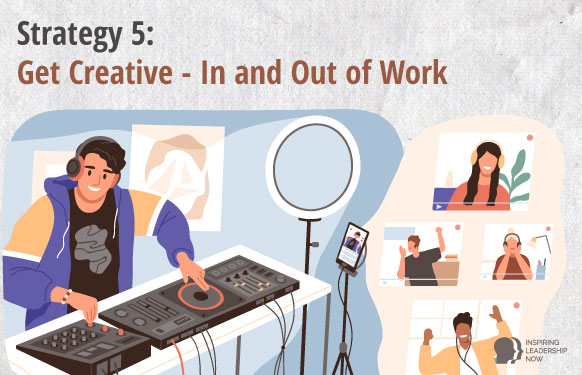 Finding a creative outlet that is constructive, collaborative and makes you happy is vital for your well-being. Make time for a fulfilling pursuit outside work. Especially one that connects you with a community of like- minded people (albeit virtually in the current climate). This is beneficial to both your physical and mental health. 
Loneliness is proven to cause a raft of health issues such as high blood pressure, heart disease, obesity, anxiety, and depression. Yet, having a creative outlet or hobby out of work offsets loneliness by fostering a healthy sense of community and satisfaction. 
Make time for you to do the things that make you happy, and connect with your tribe. It's an investment in your health for today and tomorrow. 
Within work, strive to get creative with communication and connections that are not all about work – build camaraderie and spontaneity virtually. Structure in some informal and fun, virtual exchanges of information.
Hubstaff's Kitty Webb suggests hosting your own, collective, MTV cribs with your coworkers, or a regular team trivia quiz. Or, how about playing Two Truths One Lie? where team members each name two facts and one falsehood about themselves, the others then guess which is the truth, and which is the lie.
Strategy 6: Style It Out!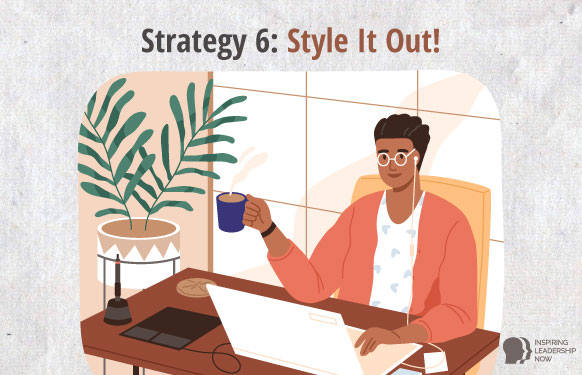 Styling it out here means figuring out your style; how, where, and when you work best. 
If you work best surrounded by the babble and bustle of a crowd choose working in a cafe (when they are open, post-Covid). Maybe you work best in silence but like to be surrounded by others? In that case try a co-working space or library (again, when they are open). Scheduling a day or two per week to work outside your home keeps you engaged and connected with the world.
Furthermore, schedule your time based on your energy levels. Pay attention to the time of day where you hit your sweet spot for productive work and organize your tasks accordingly. If you're raring to go in the morning do your most demanding or analytical tasks then. Similarly if you have an energy slump in the afternoon schedule a break and re-engage when you are emerging from the dip.
When working remotely create a space or choose to work where you feel motivated by your environment. If, like many, your space at home is limited, keep your working space neat, tidy and clear of distractions, this will help you stay focused and energetic at work.
Jonah Hill in Top Five Time Management Tips for Remote Employees suggests moving your work table or desk to a different location of the house from time to time. This will help you find the best space to keep your working vibe fresh.
Strategy 7: Back Up! 
Have a backup for everything that involves your remote tasks and productivity. This means back up your devices such as your mobile, your laptop and file management systems. Regularly! Why not schedule this in as a weekly task? 
All remote workers will tell you that a reliable and efficient wifi service is vital to a decent day's work. So, run tests on the internet speed of your location (you can use an App for this), and check the mobile signal. 
Contact suppliers for wifi boosters, and change providers if there is another, more suitable option. You need to be able to make video calls and receive communications consistently. 
Consider what tech you need to do your job well and invest. This can even be investing in noise cancelling headphones so you can take your work anywhere, according to 8 Remote Working Tips For Beginners. 
Get the right tech to support your connectivity and work process. For example, make sure you can access a file hosting service if your team works collaboratively. And if there are no collaboration tools, hit up the "powers that be" to make that happen. Get with the 21st century and get productive as you WFH! 
Get On, Embrace It, Own It This 2021!
To embrace the perks of working remotely means putting in place a few simple strategies to deal with remote work. 
To optimize your WFH time, prioritize communication, and connection with your team. Not only with messaging platforms, but with regular one-to-ones and video calls. Establish a daily routine that works for you and build into your daily exercise. Creating blocks in your schedule for down-time and exercise means that you can be focused and effective in your productive work time.
By managing your time efficiently and consistently allows the benefits of remote work to extend into your life outside work. As a remote worker, you can take care of your kids, or book your dental appointments without worrying about leaving the office during your working day.
With this increased flexibility you also get to pursue your creative outlets outside of work, and bring the elements of play and connection into your virtual workspace. (Bring on the Friday trivia quiz.)
If you do all these strategies in dealing with remote work in 2021 while taking the time to figure out how, and where, you work best, with the tech to support your working process, you are set. These essential and practical tips will jump-start your routine in your remote work in 2021!
Adopting specific WFH strategies will help you deal with remote work in 2021 (and beyond) and enable you to develop a productive and effective remote-work culture.