Last updated: 20 August 2019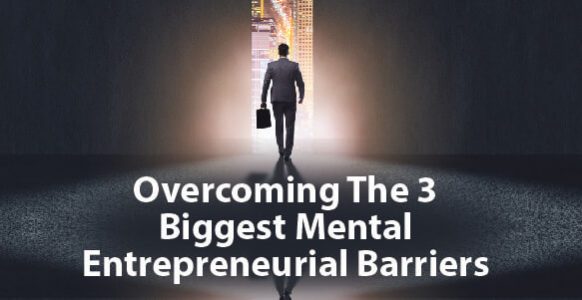 You wake up in the middle of the night with a great idea for a new business.
You quickly jot it down but have trouble getting back to sleep because you keep spinning different scenarios about how well it could do in your head.
Sure, you've had ideas for businesses in the past, but somehow none of them ever went anywhere.
This one, however, is really good, and you know it. It feels like the stars are aligned for you to finally launch your first business.
You eventually drift off to sleep again, dreaming of the successful launch of your business idea.
When your eyes finally open in the morning, you try to hang on to that great idea and the excitement it generated during the night.
You're a bit groggy from the lack of sleep. Then you look at the clock and see you've overslept and barely have time to grab a quick shower and get yourself out the door to the unfulfilling day job – a necessary evil to pay the bills.
After a mind-numbing day of administrivia you're exhausted, annoyed, and hungry. You flop down on your bed and notice your little notebook with that great idea for a new business. You try to regain the excitement you felt in the middle of the night, but you're just too tired.
You think to yourself, "I'll just take a twenty-minute power nap and then I'll start sketching out how to make this dream a reality. This one is too good to pass up!"
45 minutes later you wake up to start, and your stomach is practically screaming for food. You look in the refrigerator and find the shelves devoid of anything worth eating.
You remember how you had planned to go grocery shopping the day before yesterday, but wound up going out with friends instead.
You decide you'll grab a quick meal out, go get some groceries, and then focus on your new business idea.
As you're putting the groceries in your car, you run into an old you friend you haven't seen in years and decide to grab a quick coffee with them – you need a shot of caffeine anyways if you're going to focus on your new idea.
That "quick" coffee turns into a couple hours of catching up with your friend. By the time you return back home, it's quite late. You put your groceries away and then sit down at your computer to start fleshing out your idea.
Then you remember there's an important meeting at work tomorrow for which you need to look your best, but forgot to pick up the dry-cleaning earlier.
No big deal, though, since you use a place that's open 24/7. You run out and pick up your clothes, come back home, and sit down again at your computer. You stare at a blank screen for a while until your eyes glaze over.
You're tired.
No, you're actually completely drained. You crawl into bed and as you drift off to sleep, you can see your little notebook with that great new business idea out of the corner of your eye. "Well," you think to yourself, "I'll get started on it tomorrow."
Does that all sound familiar to you?
It happens all the time to lots of people. You have a great idea for a new business, but then something always gets in the way.
That thing is called life.
But in particular, there are 3 specific aspects of life that can consistently kill your entrepreneurial spirit unless you find ways to address them: procrastination, perfectionism and paralysis.
1. Procrastination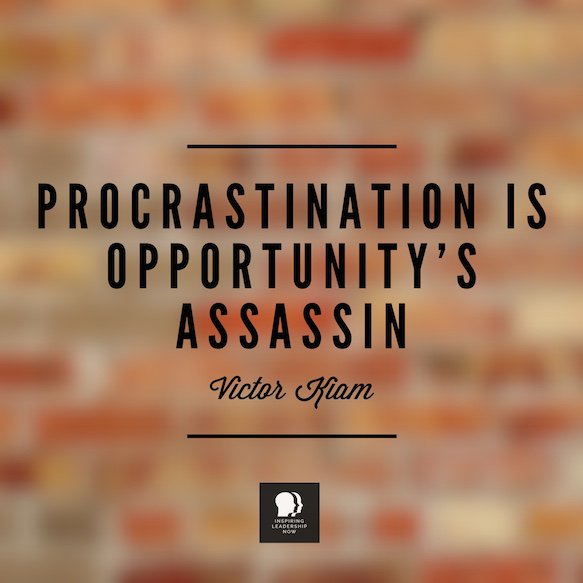 When you have that killer new business idea, you have to carpe diem (seize the day).
Sounds easy (and cliche) enough, but as you saw in the scenario above, there's a never-ending stream of life that will always get in the way; that is, if you allow it to.
The key thing to keep in mind is this: Procrastination is a choice.
We'd rather think it is not a choice.
We'd rather think we're victims of life who can't control all those things pulling us in different directions away from that great idea.
In the scenario above, there were all kinds of decision-points that could have gone differently.
Probably the most important one was the decision to go out with the friend for coffee. You could have said, "I'm busy tonight, but give me a call later in the week and we'll get together."
Just that one simple choice could have resulted in two hours of time focused time.
When the thought creeps into your mind that, "I'll get to that idea tomorrow," stop yourself and recognize what you're doing – you're procrastinating.
Decide instead to get to it today because when you think about, today is what you know you have. Who knows what tomorrow will bring, right? So get to it today.
Carpe Diem!
2. Perfectionism
"I think perfectionism is based on the obsessive belief that if you run carefully enough, hitting each stepping-stone just right, you won't have to die. The truth is that you will die anyway and that a lot of people who aren't even looking at their feet are going to do a whole lot better than you, and have a lot more fun while they're doing it." ? Anne Lamott, Bird by Bird: Some Instructions on Writing and Life
Another surefire way to kill your entrepreneurial spirit is the need for perfectionism.
This one can take many different forms, all of which lead to the same dead-end of inaction.
If you wait for the perfect time, you'll never get started because there is no such thing as a perfect time.
If you wait for the perfect constellation of any particular elements, whether that is people, funding, or whatever, you're apt to wind up in the same dead-end.
Remind yourself that nothing about launching a new business idea will ever be perfect.
It's an inherently messy undertaking, and you've got to learn to accept certain levels of ambiguity and imperfection if you're going to move forward boldly.
To be sure, you can swing that pendulum too far in the other direction as well, making rash decisions and failing to do your due diligence.
But if you're prone to perfectionism, then you have to take special care to keep the momentum moving in a positive forward direction without getting bogged down too much in the nitty-gritty details.
For example, let's say there's a particular trade show or other networking opportunity a few months down the road where you're pretty sure there are going to be a bunch of people you really want to meet that will help you further develop and launch your idea.
All too often, aspiring entrepreneurs build up such events in their minds to be some kind of all-important panacea.
The result is that you may find yourself in a holding pattern, just waiting for that all-important event to come.
Which can also be a dangerous position to be in, because in effect, it's another form of procrastination.
As you're putting all your entrepreneurial eggs into one basket under the pretence that this is the only way it can happen.
But what if the event comes and it turns out not to be the solution you had made it out to be?
Or you get sick that week, or a host of other possible issues preventing you from attending or reaping the benefits of that event pop up?
It's always better to be developing multiple channels to keep the momentum going, even if they're not perfect.
If one doesn't pan out, so be it! You've got several more in the pipeline, greatly increasing your chances of success.
And what's more, you're still taking action.
Which is always going to take you further than waiting around for the "perfect" opportunity to arise.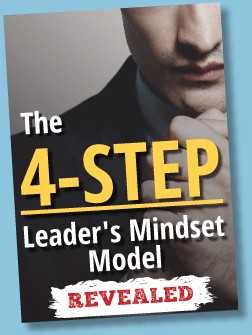 <!--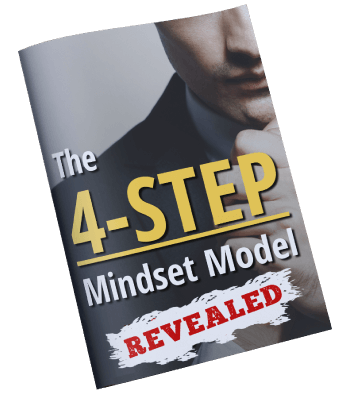 -->
Discover THE 4-STEP
LEADER'S MINDSET
MODEL Successful
People Use To Stay At
The Top Of Their Game
3. Paralysis
Analysis paralysis is another wet blanket that quickly smothers the entrepreneurial flames that need constant fanning to grow and thrive.
Launching a new business involves making lots of decisions along the way.
But if you're prone to analysis paralysis, you run the risk of getting so wrapped up in endless analyzing that the final result is failing to make the decisions that must be made to keep the project moving forward.
For some it's endless research that results in paralysis.
Yes, you want to explore all facets of your new idea.
And you want to carefully consider multiple options and scenarios in each decision you make, but if that process bogs you down so much that you never make the decisions – then the paralysis is smothering your idea.
In today's rapidly changing business landscape, you must be agile.
You must be able to quickly and nimbly make decisions on the fly to keep things moving in the right direction.
Allowing yourself to fall prey to analysis paralysis will get you nowhere.
Powering Through The Barriers
"We are the creative force of our life, and through our own decisions rather than our conditions, if we carefully learn to do certain things, we can accomplish those goals." – Stephen Covey
Procrastination, perfectionism, and paralysis are 3 barriers that can stop you dead in your tracks as an aspiring entrepreneur.
But the good new is… you can overcome these barriers. Here are 3 turbo-boosting tactics to make it happen:
Manage Your Time. You can defeat procrastination by making better decisions about how you use your most precious commodity: Your time.

You've got a great new business idea, so explicitly structure your days to make sure you set aside the time you need to develop and launch it.
Don't make the mistake of short-changing yourself on sleep, food, or hydration! Treat your body well if you want it to perform well.
Keep your eye on the prize as you prioritize your daily tasks so your new idea gets the attention it needs to become a reality.

Embrace Uncertainty

Power through the perfectionism barrier by simply recognizing that perfection is impossible.
The modern business landscape is fraught with uncertainty and ambiguity. Acknowledge it, embrace it, and keep on moving in spite of it. There is no perfect time. The here and now is what you have, so carpe diem!

Be Decisive

Power through the barrier of analysis paralysis by sharpening your decision-making skills.
Specifically, practice the art of making well-informed decisions as rapidly as possible based on the information you have. You can't always predict what will happen in the future, so do what seems best today.
The better you get at this, the more likely you'll be able to keep your idea developing and moving forward.
The barriers of procrastination, perfectionism and paralysis all too often prevent aspiring entrepreneurs from ever developing and launching their great business ideas.
But by better managing your time, embracing uncertainty, and being decisive, you can power through those barriers and see your ideas come to fruition.