| | | |
| --- | --- | --- |
| | Get the NEW Inspiring Leadership Cards Quote Deck | |
Always "Play The Winning Hand" With This Leadership Quotes Card Deck!
Claim Your FREE
Leadership Card Deck Now!
The FREE Inspiring Leadership Cards Gives You INSTANT "On-Hand" ACCESS To The Winning Wisdom From 49 Of The World's Greatest Leaders
49 Powerful Leadership Quotes from the world's greatest leaders, including Steve Jobs, Albert Einstein, Lao Tzu, Martin Luther King Jr., Oprah Winfrey, Dalai Lama, Abraham Lincoln (and many more) so you can harness the wisdom that has inspired millions, and even shaped history.
49 Winning Leadership Qualities that best represent these epic leaders and why integrating these highly effective qualities into your own leadership style will transform you into the kind of leader others feel inspired to listen to, and motivated to work for.

49 Bonus Action Steps to complement each of the leadership qualities and further improve your innate ability to inspire, regardless of any situation you find yourself in.

Just follow the quote and personal action step and see how others immediately gravitate towards you with respect and admiration.

7 Exciting & Unique Suits: including Visionary Entrepreneurs, Wise Philosophers, History-Changing Military Leaders, Uplifting Humanitarians, Brilliant Scientists, Influential Artists & Maverick Politicians so you can add real depth to your leadership skills from a wide range of great leaders from the past and present.
Quick & Easy: With the Inspiring Leadership Cards you don't have to wade through long and poorly written leadership books to get to the key game-changing insights you need to excel in your career right at your fingertips.

Long-Term Benefits To "Jumping" Past Those You Work With: Going through the cards naturally helps change your mindset to be in tune with the world's greatest leaders.

Automatically you will begin to "take on" the winning qualities of a "natural born leader" – no matter what your age or current position is!

Ultimate Career-Boosting Leadership Tool: In any situation where you need to "stand up and act" and want others (i.e. your boss) to admire your leadership abilities – just refer to the Inspiring Leadership Cards and you'll always know how to act with calm authority and "play the winning hand"!
Audio Training Bonus: Do you prefer to learn by sound? No worries, we've got you covered! To help you fully absorb the inspiring words and wisdom of these extraordinary leaders, you'll also get an audio version of the cards... for free!
Now You Can Put Your Leadership Skills Into Action Anytime, Anywhere...
This portable "carry-wherever-you-go" card deck is perfect for up-and-coming success-minded people who want to quickly get noticed for their natural leadership style and ability to make a lasting impact.
The card deck fits nicely into your pocket, briefcase or handbag. They also make a great gift to an ambitious son, daughter or work colleague!
Claim your Inspiring Leadership Cards today to make sure that no matter where you are; you're never more than an arm's length away from the winning wisdom of 49 of the world's all-time greatest leaders.
Plus, I'm Giving You My 3 BONUS WILDCARDS Too, All FREE!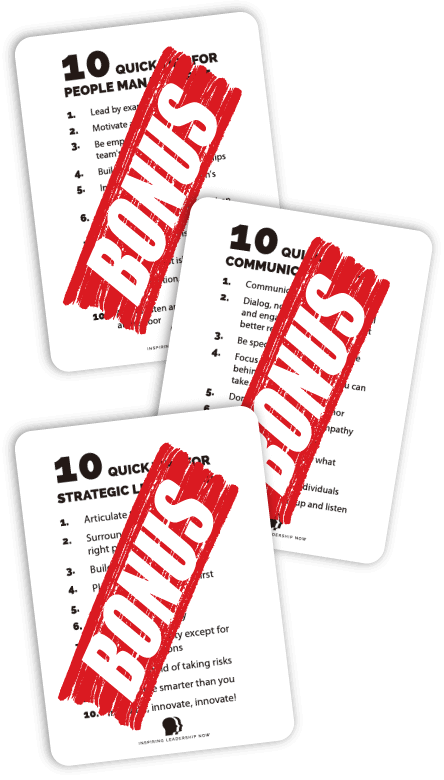 #1 BONUS WILDCARD: 10 Trusted Tips on Strategic Leadership – Need to make sharp strategic decisions for your team, organization or career? Just refer to these tips and wow people with your strategic brilliance!
#2 BONUS WILDCARD: 10 Essential Tips on How to Manage People – These quick tips reveal how to build meaningful professional relationships so you can empower, inspire and successfully lead others. An instant respect-building tool to have at hand!
#3 BONUS WILDCARD: 10 Crucial Tips on Communication – And finally you'll have 10 ways on how to connect more deeply with others helping you to build strong relationships with natural rapport...
Supplies are LIMITED so don't miss out – grab yours now.

So Why Are We Doing This? This is our way of introducing you to Inspiring Leadership Now, a website authority for motivated people who look for opportunities to build life-changing skills and further their careers and the businesses they're involved in by leading others to success.
We expect that every time you go through the cards you'll deepen your interest in becoming a better leader and hopefully you'll consider joining our community of like-minded leaders. So that's why we want to send you this exciting deck for FREE (just cover the shipping and it's yours!)
"Really Love The Quotes And Inspiring Pointers!"
"Really love the quotes and inspiring pointers in these cards. I sometimes pick a card at random, and do my best to follow the leadership advice throughout the day… sometimes I succeed, sometimes I fail… but I find it a useful way to start the day given I lead over 100 people in a busy call centre!"

Patricia, London
Call Centre Operations Manager
"A Glimpse Into What True Leadership Is Really About"
"I recently started my own ecommerce store and have a small remote team working for me. I don't find the business side of things difficult, but managing people has been more of a challenge than I ever expected. I know how I want the job done, and I want it done fast, but you can't expect employees to have the same drive for your business (lesson learned!).

I've come to realise the importance of being an actual "leader" who inspires others to get results… rather than just a "boss" who barks orders. These cards have given me a glimpse into what true leadership is really about, and how it's tied into your overall success."

Tom, Seattle
Entrepreneur
"Fantastic Cards! Quotes From My All-Time Heroes!"
"Fantastic cards! Some of the quotes are from my all-time heroes – they're the perfect pick-me-up when I'm having a rough day. Sometimes being reminded of the challenges others have overcome (and the high ground they took) is enough to alter your perspective, which is often all that's needed to turn things around."

Sheryl, Boston
FinTech Consultant
"Great Way To Feel More Confident And Motivated!"
"I've always admired people who can quote successful leaders on the fly… it sounds like they know what they're talking about! These cards contains cool quotes from famous leaders and specific tips on how to 'adopt' their qualities.

I've actually started to notice that some of the quotes pop into my head when faced with challenging situations. It's a great way to feel more confident and motivated throughout the day, especially when I have back-to-back meetings. Plus I love the look on people's faces when I throw in the perfect quote during a conversation."

Simon, San Francisco
Sales Representative
"Like Having A Group Of Personal Mentors In Your Pocket"
"This deck is a must for anyone trying to improve their leadership skills while leading a busy lifestyle. They're easy to carry so whenever I have a few minutes I'll go for the deck instead of pulling out my phone and I've noticed it makes a huge difference in my attitude - It's like having a group of personal mentors in your pocket"

Jaime, Sydney
Career Coach